Listening Resources & Tools
Sound activities for the ELT classroom by Mike Harrison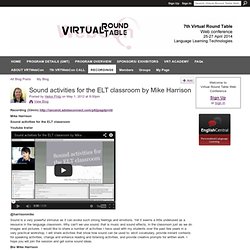 Recording (33min) http://lancelot.adobeconnect.com/p82pagdprn0/ Mike Harrison Sound activities for the ELT classroom Youtube trailer @harrisonmike Sound is a very powerful stimulus as it can evoke such strong feelings and emotions.
Using sound to stimulate creativity - Mike Harrison
Search Results: sound
Teaching with Listening Tools and Apps-Shelly Terrell
Listening Apps & Mobile Activities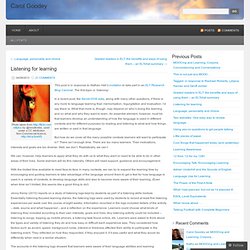 Listening for learning | Carol Goodey
This post is in response to Nathan Hall's invitation to take part in an ELT Research Blog Carnival. The first topic is 'listening'. In a recent post, the Secret DOS asks, along with many other questions, if there is any more to language learning than memorisation, regurgitation and evaluation. I'd say there is. What that more is, though, may depend on who's doing the learning and on what and why they want to learn. An essential element, however, must be that learners develop an understanding of how the language is used in different contexts and for different purposes by reading and listening to what and how things are written or said in that language.
The Fridge Magnet Game is part of WPSU's Blue Ribbon Readers, a collection of seven interactive games designed to help elementary school students gain reading comprehension competences. The game provides practice with the monitoring and clarifying strategies. It requires students to identify confusing words (by monitoring) and to replace them with words from an alternate word pool that make sense in the sentence (clarifying).
Blue Ribbon Readers: Fridge Magnet Game
Lyrics Training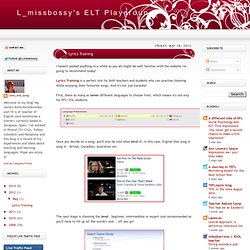 I haven't posted anything in a while so you all might be well familiar with the website I'm going to recommend today! Lyrics Training is a perfect site for both teachers and students who can practise listening while enjoying their favourite songs. And it's not just karaoke!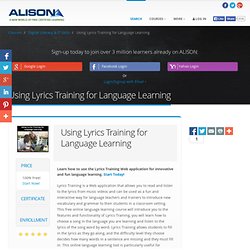 Lyrics Training is a Web application that allows you to read and listen to the lyrics from music videos and can be used as a fun and interactive way for language teachers and trainers to introduce new vocabulary and grammar to their students in a classroom setting. This free online language learning course will introduce you to the features and functionality of Lyrics Training, you will learn how to choose a song in the language you are learning and listen to the lyrics of the song word by word. Lyrics Training allows students to fill in the lyrics as they go along, and the difficulty level they choose decides how many words in a sentence are missing and they must fill in. This online language learning tool is particularly useful for students of foreign languages who want a fun and entertaining way to learn the correct pronunciation of words and it will improve their listening skills as students must identify words from a song.
Using Lyrics Training for Language Learning
Reach the Hard to Reach
Search results for listen
Many people learn English so that they can listen to and understand some of their favourite singers, but today's activity takes your English a step further. Using a website called 'The Next Big Sound' you are going to listen to new musicians and try to guess which ones will become popular. This site is a combination between new music site and a game.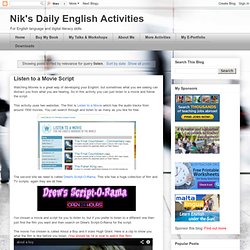 The OpenTok platform delivers all the global infrastructure, scalability, and featuresyou need to add WebRTC to your website or mobile application. Websites and apps come to life when you build on the OpenTok platform. Powerful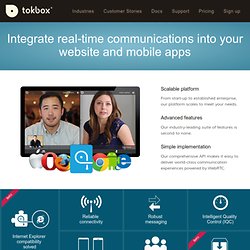 Google Chrome: The Peanut Gallery Experiment 
resa-ist - Vocaroo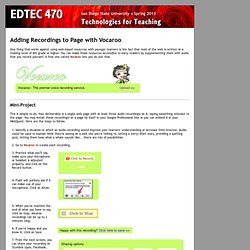 EDTEC 470 - Adding Recordings to Your Page with Vocaroo
San Diego State University • Spring 2013 One thing that works against using web-based resources with younger learners is the fact that most of the web is written at a reading level of 8th grade or higher. You can make those resources accessible to early readers by supplementing them with audio that you record yourself. A free site called Vocaroo lets you do just that. Mini-Project
Listening : A Journey in TEFL
Aug August 24, 2010 | 3 Comments I must confess one of the skills that I neglect is listening. However, it should be one of the most important ones. By improving listening, the learners learn to train themselves to understand the native speakers or other speakers of English.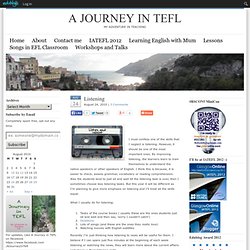 Awesome Audio Stories and more!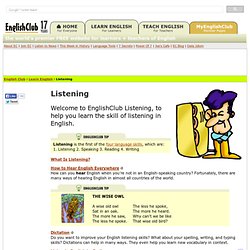 Welcome to EnglishClub Listening, to help you learn the skill of listening in English. Listening is the first of the four language skills, which are: 1. Listening 2.
Practice Listening to Naturally-spoken English (For ESL/EFL)
ELLLO English Conversations in MP3 Get over 1000 elllo MP3 lessons in one download. product details >> 1000+ lessons for $39.95
Flipz TV is a really useful piece of free software for creating entertaining audio-visual materials. The software enables you to record your own audio monologues and lip-sync them with a choice of animated talking heads. It then turns them into small Flash files which can be run in a web browser. These can be put on the Internet, run form your computer desktop, or the Flash files can even be delivered to mobile phones.
Creating audio-visual monologues
Dictation
English Dictation - Learn English Free
Socialising 4: Active listening
ACTIVE LISTENING (for grades 3-6) | Morningside Center for Teaching Social Responsibility
www.rong-chang.com/eslpjt/