CLIL
Teaching Math & Science to Language Learners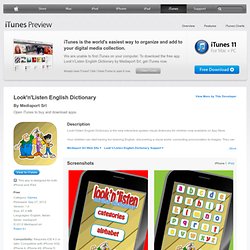 Look'n'Listen English Dictionary for iPhone 3GS, iPhone 4, iPhone 4S, iPhone 5, iPhone 5c, iPhone 5s, iPad, iPod touch (3rd generation), iPod touch (4th generation) and iPod touch (5th generation) on the iTunes App Store
View In iTunes This app is designed for both iPhone and iPad FreeCategory: GamesReleased: Sep 27, 2012Version: 1.0Size: 67.4 MBLanguages: English, ItalianSeller: mediaport© 2012 Mediaport srl Compatibility: Requires iOS 4.0 or later.
Description Introducing the most comprehensive Kids Picture Dictionary App on Appstore yet! Download this A to Z Picture Dictionary with hundreds or words and sentences with a fun self-record tool for kids and parents to record their own voice and playback! ★ Kids tested - they love it! Parents tested - they love it!★ Building vocabulary has never been so much fun★ Large pictures★ Professional voiceovers recorded in production studio★ High quality images★ Self-record tool - Kids love to hear their own voice as they make their sentences!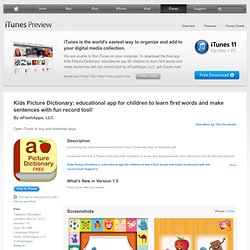 Kids Picture Dictionary: educational app for children to learn first words and make sentences with fun record tool! for iPhone, iPad, and iPod touch on the iTunes App Store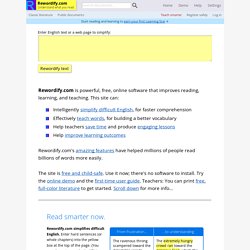 Rewordify.com now simplifies and teaches English in a more natural-sounding way. Read more. More reading, smarter teaching The alternative pathway to enduring, independent learning Rewordify.com helps people read more, understand difficult English faster, and learn words in new ways. Teachers use it to save time and increase learning from any English text.
Get a Voki now! Younger Kid's Class Older Kid's Class Dear Parent, Each week your child and you can check this web site to discover more about the week's theme, sing songs, or read more about the books we read in the class. Just click the links above or on the sidebar on the right to find your way around.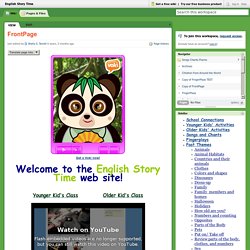 English Story Time / FrontPage
Play & create video trivia games
Shelly Terrell (shellyterrell) on Pinterest
CLIL
Cooking Up Some Good CLIL