Statystyki
Fanpage Trender - narzędzie analityczne dla marketingu na Facebooku
clickdensity - Evaluate & Improve your Website: Heat Maps & More
Clicktale Web Analytics www.clicktale.com Clicktale is a totally new approach to website analysis and optimization.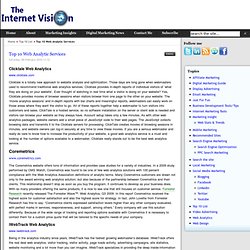 Top 10 Web Analytic Services - TheInternetVision.com
The 8 Best Web Analytics Tools of 2011 | Single Grain Blog
Everybody's entitled to their opinion, right? Well, how do you start filtering through those opinions to find out what's actually true? Today we're going to take 8 articles rating web analytics tools within the past year, combine their ratings and recommendations, and find the 8 tools most frequently mentioned. Not to worry – we also have a list of the all 82 tools we found so you can do your own research!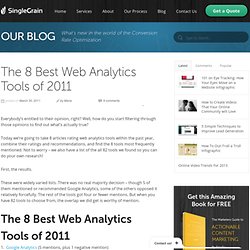 Profesjonalne statystyki odwiedzin, bezpłatne liczniki, promocja witryny w rankingu, SEO, pozycjonowanie
Preferencje internautów wciąż ulegają zmianom. Profesjonalna witryna internetowa powinna zmieniać się wraz z nimi. Badanie gemiusTraffic jest nowoczesnym i zaawansowanym technologicznie badaniem ruchu na witrynach internetowych, które w krótkim czasie stało się podstawą tworzenia dostosowanych do potrzeb Klienta, atrakcyjnych i funkcjonalnych stron internetowych. Kompleksowe dane uzyskane dzięki badaniu gemiusTraffic pozwalają na dostosowanie witryny do realnych oczekiwań i zachowań internautów w oparciu o wiedzę, a nie intuicję. Wyniki badania są prezentowane na bieżąco w specjalnym interfejsie w formie czytelnych wykresów i tabel. Aby poznać możliwości badania gemiusTraffic, zachęcamy do zapoznania się z przykładami praktycznego zastosowania dostępnych w badaniu statystyk.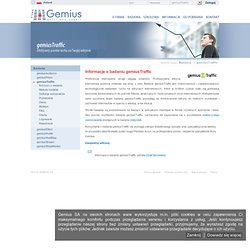 Traffic: Informacje o badaniu :: Gemius SA