Statystyki
Fanpage Trender - narzędzie analityczne dla marketingu na Facebooku
clickdensity - Evaluate & Improve your Website: Heat Maps & More
Clicktale Web Analytics www.clicktale.com Clicktale is a totally new approach to website analysis and optimization.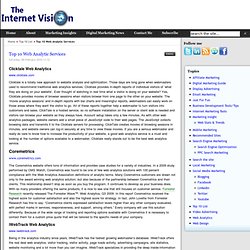 Top 10 Web Analytic Services - TheInternetVision.com
The 8 Best Web Analytics Tools of 2011 | Single Grain Blog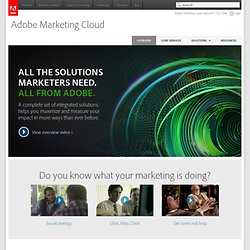 "At Lenovo, my executive team challenged the Global Business Intelligence practice to provide an 8x return on investment for every dollar invested. Because of combining Adobe Analytics with the Adobe Target solution, for every one dollar invested, we were able to provide a 12x return on that investment. At that point in time, it was pretty clear how important the optimization and analytics program was." Ashish Braganza Senior Manager of Global Business Intelligence (GBI), Lenovo
Profesjonalne statystyki odwiedzin, bezpłatne liczniki, promocja witryny w rankingu, SEO, pozycjonowanie
Preferencje internautów wciąż ulegają zmianom. Profesjonalna witryna internetowa powinna zmieniać się wraz z nimi.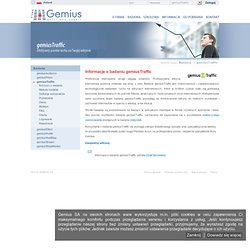 Traffic: Informacje o badaniu :: Gemius SA