Blogs
Cult of Mac | Apple News, Reviews and How Tos. All Facebook - The Unofficial Facebook Blog - Facebook News, Facebook Marketing, Facebook Business, and More! Jennie Poppenger | Social Media Whisperer - Social Media For Good! The Mantooth Company Blog, create, ideas, share. This weekend Kevin Smith was "kicked off" of a Southwest Airlines flight for being "too fat."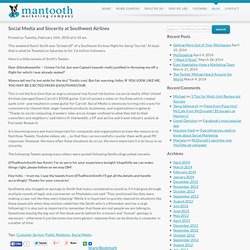 At least that is what he Tweeted on Saturday to his 1.6 million followers. Here is a little sample of Smith's Tweets: Dear @SouthwestAir – I know I'm fat, but was Captain Leysath really justified in throwing me off a flight for which I was already seated? Wanna tell me I'm too wide for the sky? Totally cool. LinkedIn Tips. Social media news, strategy, tools, and techniques. 2011 Best 15 WordPress Plugins for Social Media and SEO. About Viveka : Social Media – For Women – By Women. Viveka is a successful entrepreneur, nationally renowned IA Certi fied LinkedIn expert and trainer, and a respected social media speaker.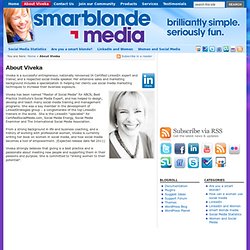 Her extensive sales and marketing background includes a specialization in helping her clients use social media marketing techniques to increase their business exposure. Viveka has been named "Master of Social Media" for ABCN, Best Practice Institute's Social Media Expert, and has helped to design, develop and teach many social media training and management programs.
She was a key member in the development of LinkedStrategies group – a conglomerate of the top LinkedIn trainers in the world. She is the LinkedIn "specialist" for CertifiedSocialMedia.com, Social Media Energy, Social Media Examiner and The International Social Media Association. Social Blog | Social Media Agency | Banyan Branch. Since Instagram launched brand pages earlier this year, Mashable reported that 40% of the top 100 brands have already taken to the photo-sharing platform.
If your brand is still mulling over whether joining Instagram is worth it, here are some statistics to keep in mind: People remember 10% of what they hear and 20% of what they read, but about 80% of what they see . Consumers can process messages with images 20% faster than text-only images . 70% of all web social activities revolve around images. A new user joins Instagram every second .
---