SENS
Un article de Wikipédia, l'encyclopédie libre. Le terme snoezelen (non masculin, prononcé /ˈsnuzələ(n)/ ) est un néologisme résultant de la concaténation des mots néerlandais snuffelen (explorer) et doezelen (somnoler). L'appellation alternative de stimulation multisensorielle contrôlée est parfois utilisée (surtout dans sa version anglaise Controlled Multisensory Stimulation ) quoique la notion de contrôle soit plutôt contradictoire avec les principes de base de la discipline. Définition [ modifier ] Lancée au Centre Hartenberg à Ede (Pays-Bas) vers 1974 par Ad Verheul et Jan Hulsegge, le snoezelen est une pratique [ 1 ] de stimulation visant à établir une relation personnelle, dans un milieu naturel ou non, permettant de vivre une expérience sensorielle, subjective et constructive.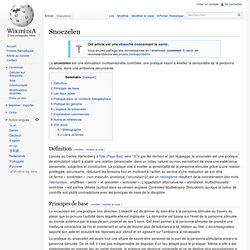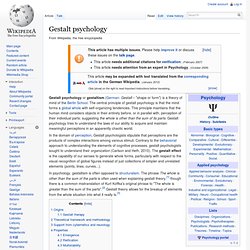 Gestalt psychology or gestaltism ( German : Gestalt – "essence or shape of an entity's complete form") is a theory of mind and brain of the Berlin School ; the operational principle of gestalt psychology is that the brain is holistic , parallel, and analog, with self-organizing tendencies. The principle maintains that the human eye sees objects in their entirety before perceiving their individual parts, suggesting the whole is greater than the sum of its parts. Gestalt psychology tries to understand the laws of our ability to acquire and maintain stable percepts in a noisy world.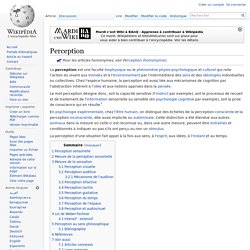 Un article de Wikipédia, l'encyclopédie libre. La perception est une faculté bio- physique ou le phénomène physio- psychologique et culturel qui relie l'action du vivant aux mondes et à l' environnement par l'intermédiaire des sens et des idéologies individuelles ou collectives. Chez l'espèce humaine, la perception est aussi liée aux mécanismes de cognition par l'abstraction inhérent à l' idée et aux notions apprises dans la pensée . Le mot perception désigne donc, soit la capacité sensitive (l' instinct par exemple), soit le processus de recueil et de traitement de l' information sensorielle ou sensible (en psychologie cognitive par exemple), soit la prise de conscience qui en résulte [ 1 ] . En psychologie expérimentale , chez l' être humain , on distingue des échelles de la perception consciente et la perception inconsciente , dite aussi implicite ou subliminale .
Perception