Free Search Tools
The Institute's Blog: Nonpartisan. Timely. Transparent.
California Campaign Contributions and Voting Database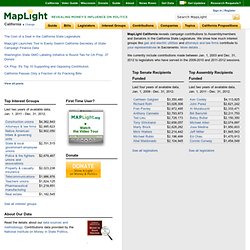 MapLight California reveals campaign contributions to Assemblymembers and Senators in the California State Legislature. We show how much interest groups like gas and electric utilities and attorneys and law firms contribute to your representatives in Sacramento. More details...
Topics
Skip to main navigation / Skip to secondary navigation / Skip to content MapLight - Money and Politics Money and Politics: Illuminating the Connection Sign in | Register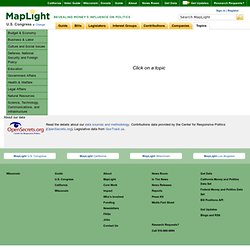 From a MapLight News Release: MapLight, a nonpartisan research organization that reveals money's influence on politics, is pleased to announce the launch of its newest transparency tool, Topic Pages, during Sunshine Week. The new tool allows journalists and citizens to search for and track bills by issue area in the U.S. Congress and in the California and Wisconsin State Legislatures.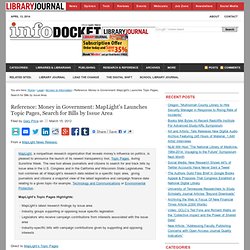 Reference: Money in Government: MapLight's Launches Topic Pages, Search for Bills by Issue Area « INFOdocket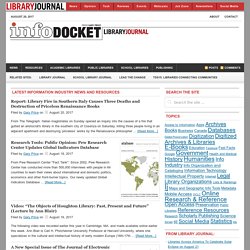 INFOdocket
The National Library of Ireland is Looking for a New Director Filed by Gary Price on January 25, 2014 Even if you're not going to apply for the position it's interesting to read take a look at the requirements and skills the library is looking to find. From NLI: The National Library of Ireland is a major national cultural institution providing library and research services to a wide range of … [Read More...] HathiTrust Publishes 2013 Year in Review Report Filed by Gary Price on January 24, 2014
Full Text Reports…
Note to FullTextReports followers… Some of the papers and reports posted on FullTextReports.com are freely available online for just a limited time before they disappear behind a paywall (or go away entirely). If you see something you suspect might be useful to you (or a colleague) in the future, download it the day you see it because it may not be accessible later without a subscription (or it may have been moved or taken offline).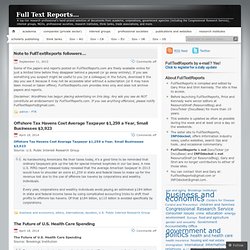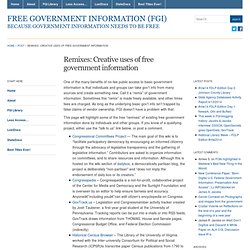 One of the many benefits of no-fee public access to basic government information is that individuals and groups can take gov't info from many sources and create something new. Call it a "remix" of government information. Sometimes this "remix" is made freely available, and other times fees are charged. As long as the underlying basic gov't info isn't trapped by false claims of vendor ownership, FGI doesn't have a problem with that.
Remixes: Creative uses of free government information | Free Government Information (FGI)