Cute
Stories_hcandersen6x9.pdf. Plush cow - beauties of Iowa. Meet the quokka, the happiest animal around. Rainforest fluffballs. Save the Duck - large - Worth1000.com forums. Prince Harry hippo gives his happy handler a loving lick. By Emma Reynolds Published: 11:05 GMT, 28 March 2012 | Updated: 09:31 GMT, 30 March 2012 Adorable Harry the hippopotamus is no stick-in-the-mud when it comes to making friends with humans.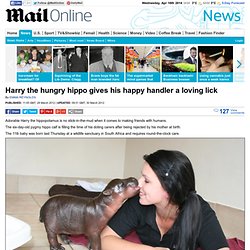 The six-day-old pygmy hippo calf is filling the time of his doting carers after being rejected by his mother at birth. The Boss. How To Hug A Baby. Tigerpiglets2.jpg (649×489) Turtles!!! All sizes | Tortuga con jersey de ganchillo. THE SMALLEST PET PIG IN THE WORLD!!!!!!?????? Video. To Battle Noble Steed | Unscrwed. Waiting for the Answer by MAK. Pr (5 of 41) low res. 6a00d8341bf8f353ef014e8bb61576970d-800wi (800×532) All sizes | Augusta in the Park. 3vecve7s.jpg (499×499)
Cute Squirrel Rescue. Ei mein Häschen - Bild von wanneka aus Babies - Fotografie (24308557. Funny-kitten.jpg (640×361) Amazing Friendship. Is There Anything Cuter Than This? Pictured: The baby pygmy hippo who's barely bigger than a lettuce leaf. By Daily Mail Reporter Updated: 08:05 GMT, 1 October 2009 Hippos kill more humans than any other animal - but this little fellow doesn't look like he could do too much harm.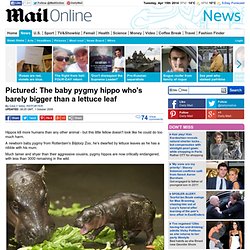 A newborn baby pygmy from Rotterdam's Blijdorp Zoo, he's dwarfed by lettuce leaves as he has a nibble with his mum.
---