Democratic MicroFinance Project
Mark Udall | U.S. Senator for Colorado
The Occupy London camp at St Paul's ... Protesters should 'drop the myth that finance is terribly complicated'.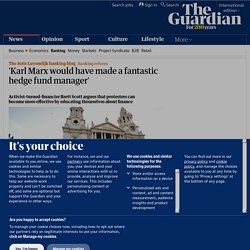 'Karl Marx would have made a fantastic hedge fund manager' | Comment is free
Karl Marx and the world financial crisis: Bernd Debusmann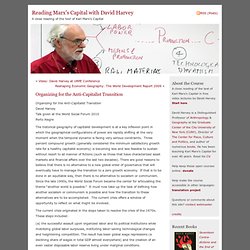 Organizing for the Anti-Capitalist Transition David Harvey Talk given at the World Social Forum 2010 Porto Alegre The historical geography of capitalist development is at a key inflexion point in which the geographical configurations of power are rapidly shifting at the very moment when the temporal dynamic is facing very serious constraints. Three percent compound growth (generally considered the minimum satisfactory growth rate for a healthy capitalist economy) is becoming less and less feasible to sustain without resort to all manner of fictions (such as those that have characterized asset markets and financial affairs over the last two decades).
s Capital with David Harvey » Blog Archive » Organizing for the Anti-Capitalist Transition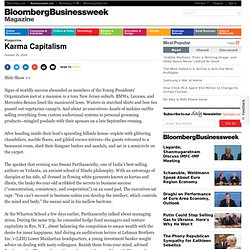 Slide Show >> Signs of worldly success abounded as members of the Young Presidents' Organization met at a mansion in a tony New Jersey suburb. BMWs, Lexuses, and Mercedes-Benzes lined the manicured lawn. Waiters in starched shirts and bow ties passed out vegetarian canap?s.
Karma Capitalism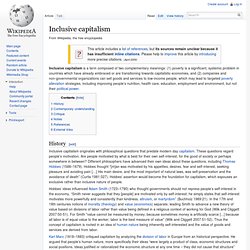 Inclusive capitalism is a term composed of two complementary meanings: (1) poverty is a significant, systemic problem in countries which have already embraced or are transitioning towards capitalistic economies, and (2) companies and non-governmental organizations can sell goods and services to low-income people, which may lead to targeted poverty alleviation strategies, including improving people's nutrition, health care, education, employment and environment, but not their political power . [ edit ] History
Inclusive capitalism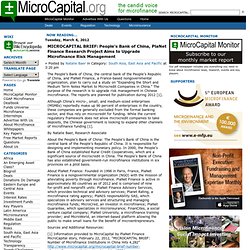 The People's Bank of China, the central bank of the People's Republic of China, and PlaNet Finance, a France-based nongovernmental organization, plan to carry out a study on "Expanding the Short and Medium Term Notes Market to Microcredit Companies in China." The purpose of the research is to upgrade risk management in Chinese microfinance.
BRIEF: People's Bank of China, PlaNet Finance Research Project Aims to Upgrade Microfinance Risk Management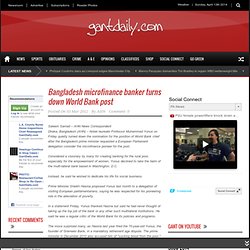 March 3, 2012 at 11:21 AM by AHN ·
Bangladesh microfinance banker turns down World Bank post
Parminder Bahra » Blog Archive » Obama's criticism of Wall Street banks extends to microfinance sector
Richard Lazzara
Senator Obama Visits K-Rep Bank, a Microfinance Institution in Kenya's Kibera Slum - MicroCapital: On Microfinance and Microcredit Investment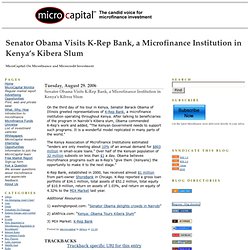 On the third day of his tour in Kenya, Senator Barack Obama of Illinois greeted representatives of K-Rep Bank , a microfinance institution operating throughout Kenya. After talking to beneficiaries of the program in Nairobi's Kibera slum, Obama commended K-Rep's work and added, "The Kenyan Government needs to support such programs. It is a wonderful model replicated in many parts of the world."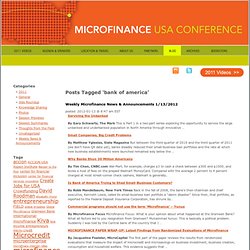 Bank Of America | Microfinance USA 2011
By Matt Royles, conference attendee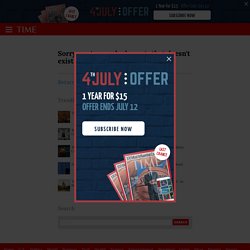 Emily Medina isn't running a pyramid scheme, despite what people often think. As the petite 26-year-old works her way through some of New York City's poorer neighborhoods, she approaches women selling food and trinkets on the street and offers to lend them money to grow their businesses. The organization Medina works for, Grameen, is one of the world's largest microfinance outfits and has a Nobel Prize to its name for this work.
Microfinance in the U.S.: Can Lenders like Grameen Succeed?
Ed: Is Yes Bank doing right in recalling loans to microfinance institutions?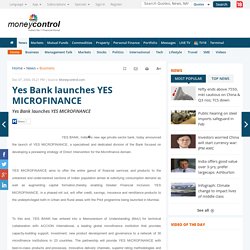 YES BANK, Indias new age private sector bank, today announced the launch of YES MICROFINANCE, a specialised and dedicated division of the Bank focused on developing a pioneering strategy of Direct Intervention for the Microfinance domain.
Yes Bank launches YES MICROFINANCE -
The United Nations (UN) International Fund for Agricultural Development (IFAD), an organization working to alleviate rural poverty in developing nations, has pledged to provide USD 100 million to the Federal Democratic Republic of Ethiopia for the Rural Financial Intermediation Programme Phase II (RUFIP II).
BRIEF: United Nations (UN) International Fund for Agricultural Development (IFAD) Provides $100m to Ethiopia for Rural Microfinance, Bridges to Traditional Banks
IFC Partners with Advans S.A. to Set Up Microfinance Bank in Oyo State, Nigeria
LAGOS, Nigeria, January 27, 2012/African Press Organization (APO)/ -- IFC, a member of the World Bank Group, is investing $1.1 million (174.5 million Nigerian naira) alongside Advans S.A., German development bank KfW, and Dutch development bank FMO to establish La Fayette Microfinance Bank in Oyo State, Nigeria.
By the Economist Intelligence Unit, funded by The Multilateral Investment Fund, Corporación Andina de Fomento and the International Finance Corporation, October 2011, 72 pages, available at: http://idbdocs.iadb.org/wsdocs/getdocument.aspx?docnum=36453519 . This paper examines the microfinance business environments in 55 countries, comparing them across three categories: supporting institutional framework, political stability, and regulatory framework and practices.
MICROFINANCE PAPER WRAP-UP: Global Microscope on the Microfinance Business Environment 2011
Published time: February 06, 2012 20:38 Edited time: February 07, 2012 00:38 Barack Obama (AFP Photo / Mandel Ngan / Files) The National Defense Authorization Act for Fiscal Year 2012, or NDAA, has been critiqued by civil liberty advocates for its ability to grant the president the power to detain and torture American citizens without charge. Over the weekend though, President Obama cited a separate provision in the act to authorize his decision to sanction Iran over continuing rumors of a nuclear weaponry program.
Obama uses NDAA to halt Iranian assets
DeSopa
Jeff Sachs:
Fiscal Policy
Obama | MuniLand
Cantor Nixes President Obama's Infrastructure Bank Idea
Technology Blog – Mobile Banking, Microfinance Information Systems and More
On a National Infrastructural Bank – News and Opinion from Social Democrats USA
Dems introduce bill creating Obama's infrastructure bank - The Hill's Floor Action
Sen. Hutchison Opposes Democrats' Infrastructure Bank Proposal Kay Bailey Hutchison | U.S. Senator - Texas
Health-care provision meets microcredit finance in Argentina
Mica opposes Obama's call for national infrastructure bank - The Hill's Transportation Report
Microfinance: An Alternative Means of Healthcare Financing for the Poor
Microfinance Goes Public - Forbes.com
The Big Banks Have Sold Us Out. Democrats And Republicans Have Sold Us Out. No One Is Defending Our Interests. Our Future Is Going Up In Flames. It's Time For Us To Stand Up And Defend Ourselves
CBO ranks Democratic and Republican stimulus proposals in one chart