Various
Enjoy the ponderings of the Star's contributors and add your own thoughts. As this section develops, we hope it may become a medium for an exchange of ideas among those who are working towards the cultural revival.
Ink Desk | St. Austin Review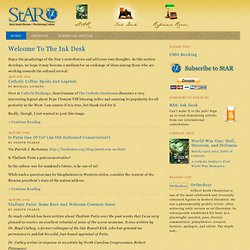 The Family-Centered Economy
This event was held in the building which, during the 1920s and '30s, housed The Comintern, or Communist International–imagine the ghosts prowling there in the night! It is now part of the campus of the Russian State Social University, a relatively new and large institution, with a strong social conservative as its President.