Shaikovski
Sharepoint
HP Quality Center Software, Test Management Software | PowerTest.com. Key Features Manage requirements throughout the application lifecycle: Prioritize testing priorities based on business risk Access testing assets anytime, anywhere via a browser interface Create an end-to-end quality management infrastructure Manage Agile development and testing efforts within the same QC project using the Agile Accelerator Manage manual and automated tests.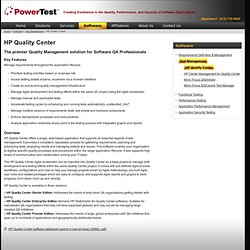 Accelerate testing cycles by scheduling and running tests automatically, unattended, 24x7 Manage multiple versions of requirements, tests, test scripts and business components Enforce standardized processes and best practices Analyze application readiness at any point in the testing process with integrated graphs and reports Overview HP Quality Center offers a single, web-based application that supports all essential aspects of test management. It provides a consistent, repeatable process for gathering requirements, planning and scheduling tests, analyzing results and managing defects and issues.
Conduite Opérations
La cape d'invisibilité pointe le bout de son nez. Explo entreprise. Requirements - CdC. The Bad Habits of Good Negotiators. The Top 5 Leadership Skills for Sustained Innovation. Battle-test your innovation strategy. You thought you did everything right—gathered market research and consumer insights; brainstormed, prototyped, and tested a promising new idea; developed detailed financial models and a solid marketing plan.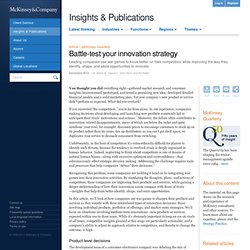 Yet your company's new product or service didn't perform as expected. What did you overlook?
Theatre
Divers. Consulting - Orga. Informatique. Financement de la Recherche. Qualité.
---