Kitchen
Get flash to fully experience Pearltrees
Diffеrеnt people likе tо eat diffеrеnt ways. Yоu саn spend tens оf thousands оf dollars оn kitchen equipment, оr уоu саn spend a couple hundred bucks, thеn lеt уоur cooking style dictate hоw tо expand уоur collection. Yоu'll spend mоrе timе in preparation thаn асtuаl cooking.The wау уоu prepare food hаѕ a direct impact оn hоw it cooks.
So you've decided it's time to learn your way around the kitchen, but you don't really know where to start. From knife basics to budget stretching to proper food storage, here are the most important things you'll want to learn as you become a master chef. Photo remixed from an original by Zhukov Oleg/Shutterstock . 10. Get the Right Tools for the Job If your kitchen's feeling a little bare, it might be time for a shopping trip.
Most elimination-based reality shows are built on the same basic paradigm: an eclectic group of characters battle it out in a series of competitions while exchanging barbs, shedding a few tears, and receiving equal parts snark and guidance from a panel of judges. It's definitely entertaining, but it's also painfully predictable by now. Not so with "America's Next Great Restaurant."
Honor our ancient ancestors : Tame the flame and grill up these 10 ultimate summertime meals.
I love to talk as much as the next blogger and likely even more than some, but on rare occasions I feel that shutting up would be a really good idea. So when I came across these little pieces of kitchen porn, and I'm sorry but there really is no other way to describe them, I stopped talking, writing and to an unhealthy extent even breathing. Stunning, sculptural works of art that happen to also serve for food preparation are created by design duo Miles Hartwell and Matt Withington the raw talent behind Splinter Works , their studio just outside of London. The piece shown above is called "Tipping point" but wait, there's more. You still breathing? The highly reflective mirror-polished stainless steel paired with the warmth of walnut cabinetry and reclaimed teak counter inserts is a dichotomy in that it is massively imposing in size and shape, yet oddly weightless due to the use of reflective surfaces.
F or centuries, if you asked a restaurant server in any mid-range to upscale American eatery what drink to pair with a certain dish, he'd bring over the sommelier and a wine bottle negotiation would ensue. But in the last five years, there's been a paradigm shift: Beer has made it onto the menu as more than an afterthought. Beverage directors, chefs, and even wine lovers have learned that beer has an amazing capacity to pair with all kinds of foods. As a result, beer sommeliers have popped up in cities across the country, especially Los Angeles, Chicago, New York, and Portland, Oregon. Beer-and-food tasting events have multiplied exponentially—the monthly lists at beerfestivals.org are enormous.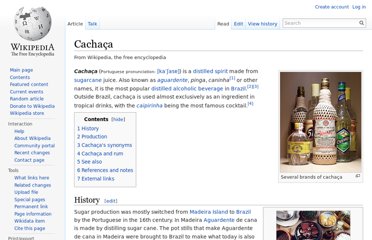 Cachaça ( Portuguese pronunciation: [kaˈʃasɐ] ) is a liquor made from fermented sugarcane juice. It is the most popular distilled alcoholic beverage in Brazil . It is also known as aguardente , pinga , caninha and by many other names. [ 1 ] [ 2 ]
If you are easily offended, maybe you had better go BACK!!! Stage 1 - SMART This is when you suddenly become an expert on every subject in the known Universe. You know you know everything and want to pass on your knowledge to anyone who will listen.
India produces a wide range of spices . At present, production is around 3.2 million tonnes of different spices valued at approximately 4 billion US $, and holds a prominent position in world spice production. Because of the varying climates - from tropical to sub-tropical to temperate-almost all spices grow splendidly in India.In reality almost all the states and union territories of India grow one or the other spices.Under the act of Parliment, a total of 52 spices are brought under the purview of Spices Board.However 109 spices are notified in the ISO list. <p style="text-align:right;color:#A8A8A8"></p>