Videos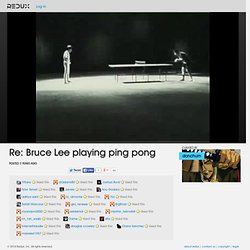 Re: Bruce Lee playing ping pong Video
Login to Redux donchum Re: Bruce Lee playing ping pong posted 3 years ago
This video from 2dphotography.ca is the epitome of a Rube Goldberg Invention. For four incredible minutes, a warehouse of photography gear is abused, rolled, smashed, swung, photographed, and used in ways the manufacturer never intended in order to get a single shot portrait shot. Video: The Incredible Rube Goldberg Portrait Photography Machine
'Fuck'!
Back to the future: This man interviews his 12-year-old self | Information, Gadgets, Mobile Phones News & Reviews
Kseniya Simonova, Sand Animation, Ukraine's Got Talent 2009 Winner
Video Description Kseniya Simonova is a 24 years old Ukrainian artist. She uses a giant light box, dramatic music, imagination and "sand painting" skills to interpret the occupation of Ukraine during WWII.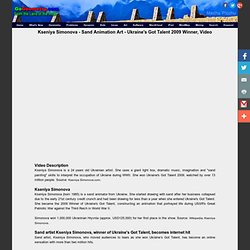 The Next Johnny Cash?
Electric City - Yahoo! Screen
Fan-Made Animation Shows Classic Video Game Characters in a Race
communication skills - zefrank
Arthur Benjamin does "Mathemagic"
It's a sad time in your life when your attitude towards puddles goes from "fuckin' A, I'm gonna jump in that shit" to "uggggghhhhh everything is gross." Maturity: It sucks out loud. But this deer has never experienced things like "suede boots," "having to look nice for a meeting," or "worrying about looking like an idiot in public," and it understands what's really important: GUYS A PUDDLE A PUDDLE YOU GUYS IT'S A PUDDLE HEY GUYS IT'S A PUDDLE
Deer playing in a mud puddle will totally make your day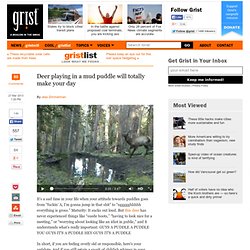 While I believe in God, I do not ignore the value and contribution that science makes. People often confuse the two as separate and nothing could be further from the truth.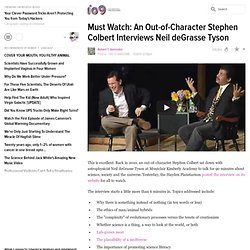 Evolution News, Videos, Reviews and Gossip - io9
Artist Turns his Dead Cat Into Quadrotor Helicopter
Dutch artist Bart Jansen was in mourning after his cat was run over by a car and killed. In the midst of his grief, inspiration struck Jansen: Take his cat's stuffed, tanned body and turn it into a quadrotor helicopter. And the name of this deceased, flying feline?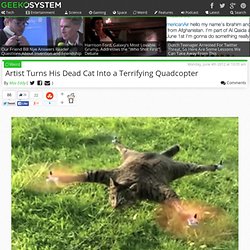 A DRAMATIC SURPRISE ON A QUIET SQUARE
The Kaye Effect - Science - Science Funny Pictures, Funny Videos, Cool Videos
Arthur Benjamin does "Mathemagic"
Crazy Lion Man
music_life.swf (application/x-shockwave-flash Object)
End of the World. Flash Animation
Angry Alien Productions
A Wonderful World puppet show -- music by Louis Armstrong!
Flamethrower Versus Fire Extinguisher at 1000 Frames per Second
Female Wolf Spider Carrying Babies
Drugs You Shouldn't Do While Driving
The Voca People The Voca People is an international vocal theater performance combining vocal sounds and an acapella singing with the art of beat-box. (visit WWW.VOCA-PEOPLE.COM) Artistic Director: Lior Kalfo Music.
The Most Interesting Youtube Videos - Buzz Inn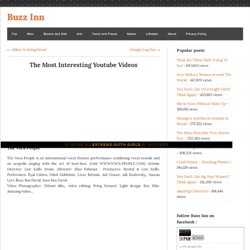 Squirrelproof your birdfeeder with a Slinky