Videos
Re: Bruce Lee playing ping pong Video. Log in donchum Re: Bruce Lee playing ping pong posted 3 years ago.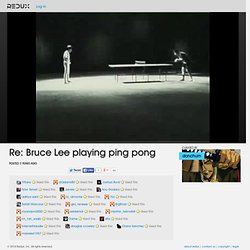 Video: The Incredible Rube Goldberg Portrait Photography Machine. This video from 2dphotography.ca is the epitome of a Rube Goldberg Invention.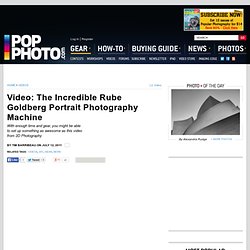 For four incredible minutes, a warehouse of photography gear is abused, rolled, smashed, swung, photographed, and used in ways the manufacturer never intended in order to get a single shot portrait shot. The amount of gear on show here is just astonishing — and occasionally wince inducing as they're abused. Watching those Profoto Boxes fall, or the lens get whacked by a hammer? And then some of the uses are wonderful, like repurposing a monumental number of GorillaPods into a bath for a ball, or using rolling lenscaps down a wall. The man behind the concept, David Dvir, talks a bit about how it was done on a blog post, and also in the behind the scenes video below.
'Fuck'! Back to the future: This man interviews his 12-year-old self | Information, Gadgets, Mobile Phones News & Reviews. Last updated: April 17, 2014 Jeremiah, meet Jeremiah.
You look confused. Source: news.com.au MEET Jeremiah McDonald. He's 32 years old. Kseniya Simonova, Sand Animation, Ukraine's Got Talent 2009 Winner. Video Description Kseniya Simonova is a 24 years old Ukrainian artist.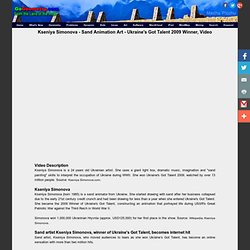 She uses a giant light box, dramatic music, imagination and "sand painting" skills to interpret the occupation of Ukraine during WWII. She won Ukraine's Got Talent 2009, watched by over 13 million people. Source: Kseniya Simonova.com. Kseniya Simonova Kseniya Simonova (born 1985) is a sand animator from Ukraine. She started drawing with sand after her business collapsed due to the early 21st century credit crunch and had been drawing for less than a year when she entered Ukraine's Got Talent.
The Next Johnny Cash? Electric City - Yahoo! Screen. Fan-Made Animation Shows Classic Video Game Characters in a Race. Communication skills - zefrank. Arthur Benjamin does "Mathemagic" Deer playing in a mud puddle will totally make your day. It's a sad time in your life when your attitude towards puddles goes from "fuckin' A, I'm gonna jump in that shit" to "uggggghhhhh everything is gross."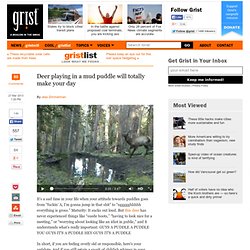 Maturity: It sucks out loud. But this deer has never experienced things like "suede boots," "having to look nice for a meeting," or "worrying about looking like an idiot in public," and it understands what's really important: GUYS A PUDDLE A PUDDLE YOU GUYS IT'S A PUDDLE HEY GUYS IT'S A PUDDLE. Evolution News, Videos, Reviews and Gossip - io9. While I believe in God, I do not ignore the value and contribution that science makes.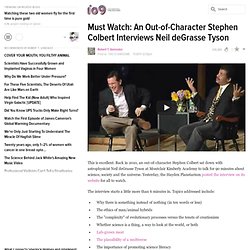 People often confuse the two as separate and nothing could be further from the truth. Having said that, the question of morality, and the Tree of Knowledge of Good and Evil are exactly the lesson that God was teaching. Tyson eluded that we need better moral management, while God on the other hand was warning us that we do not have the capacity to do so on our own. This tree did no way mean moral ability and insight! If so, Adam and Eve wouldn´t even KNOW it was wrong to eat, thus God wouldn´t have punished them. Artist Turns his Dead Cat Into Quadrotor Helicopter. Dutch artist Bart Jansen was in mourning after his cat was run over by a car and killed.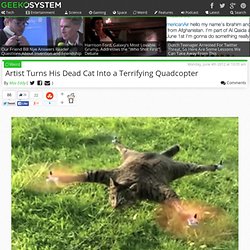 In the midst of his grief, inspiration struck Jansen: Take his cat's stuffed, tanned body and turn it into a quadrotor helicopter. And the name of this deceased, flying feline? A DRAMATIC SURPRISE ON A QUIET SQUARE. The Kaye Effect - Science - Science Funny Pictures, Funny Videos, Cool Videos. Arthur Benjamin does "Mathemagic" Crazy Lion Man.
Youtube. Music_life.swf (application/x-shockwave-flash Object) End of the World. Flash Animation. Angry Alien Productions. A Wonderful World puppet show -- music by Louis Armstrong! 5 Second Videos. College Humor. Flamethrower Versus Fire Extinguisher at 1000 Frames per Second.
Female Wolf Spider Carrying Babies. Drugs You Shouldn't Do While Driving. The Most Interesting Youtube Videos - Buzz Inn. The Voca People The Voca People is an international vocal theater performance combining vocal sounds and an acapella singing with the art of beat-box.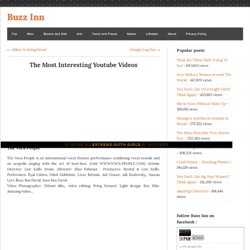 (visit WWW.VOCA-PEOPLE.COM) Artistic Director: Lior Kalfo Music. Squirrelproof your birdfeeder with a Slinky.
---