Cookies
The Best Rolled Sugar Cookies Recipe. A brownie by any other name… Love brownies.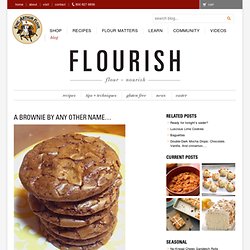 Love their shiny, flaky top that shatters into micro-thin shards that shower onto your fingers as you eat. Love their dark, gooey center. Their "chocolate nirvana" flavor. One-Pan Dark Chocolate Chunk Skillet Cookie. Deep-Dish Chocolate Chip Cookie for One. By Lauren Zembron, on July 20th, 2012 I know, I know… it seems as though I've been posting sweet recipe after sweet recipe (with a little something cheesy thrown in); but you see, after what seemed like a long time during which sweets were unappealing during my first trimester, (what can I say, pregnancy does some strange things to your body!)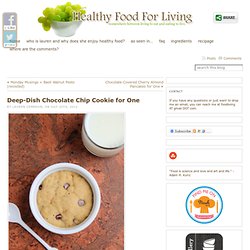 , they're apparently back with a vengeance on my appetite's menu. Sooooo if you're a sweet freak like me, all I can say about my recent recipe post pattern is: you're welcome. Chocolate Chip Salted Caramel Cookie Bars. Chocolate Chip Salted Caramel Cookie Bars Saturday was a rough day.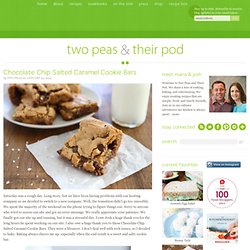 Long story, but we have been having problems with our hosting company so we decided to switch to a new company. Well, the transition didn't go too smoothly. Chocolate Chunk Banana Bread Cookies. I love recipes that make me feel like I can get away with eating something sweet first thing in the morning.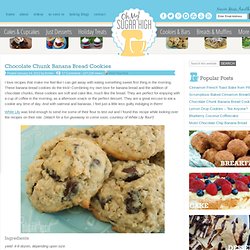 These banana bread cookies do the trick! Combining my own love for banana bread and the addition of chocolate chunks, these cookies are soft and cake like, much like the bread. They are perfect for enjoying with a cup of coffee in the morning, as a afternoon snack or the perfect dessert. They are a great excuse to eat a cookie any time of day.
And with oatmeal and bananas, I feel just a little less guilty indulging in them! Chocolate Chip Filled Melting Moments. UPDATE: Don't forget!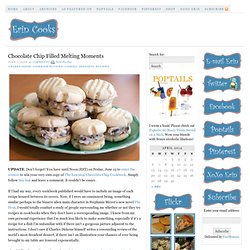 You have until Noon (EST) on Friday, June 13 to enter the contest to win your very own copy of The Essential Chocolate Chip Cookbook. Simply follow this link and leave a comment. It couldn't be easier. If I had my way, every cookbook published would have to include an image of each recipe housed between its covers. Lemon melting moments « Itty Bitty Kitchen. These rich zesty cookies certainly live up to their name and melt in your mouth.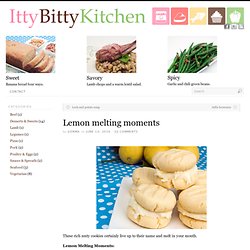 Lemon Melting Moments: 200g [7/8 cup, or approx 14 tablespoons] unsalted butter, room temperature1/4 teaspoon salt1/2 cup confectioners sugar1 1/2 cups all-purpose flour1/2 cup cornstarch1 teaspoon vanilla extractzest of one lemon Filling: 1 cup confectioners sugar50 [ 1/4 cup, or approx 3.6 tablespoons] grams unsalted butter, room temperaturejuice of one lemon. Mint Chocolate Chip Cookies Recipe. Toffee White Chocolate Chip Oatmeal Cookies.
I love oatmeal cookies and I think they're perfect for the holiday season.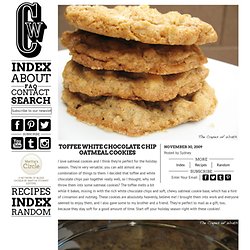 They're very versatile; you can add almost any combination of things to them. I decided that toffee and white chocolate chips pair together really well, so I thought, why not throw them into some oatmeal cookies? Peanut Butter Chocolate Chip Cookies. Based on a from long, long ago, I've been toodling around for quite some time with the concept to get, what is to me, the perfect peanut butter cookie.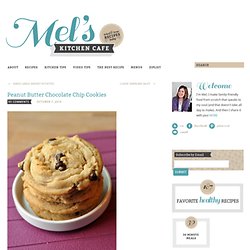 And I finally think I've got it! While I generally like to steal a cookie (or five) warm from the baking sheets, these cookies benefit greatly from cooling to room temperature (and are fantastic out of the freezer especially if you have the patience to let them sit on the counter for about 3 1/2 minutes – pure bliss). Reese's Pieces Chocolate Peanut Butter Cookies — Kohler Created. I asked Neil to pick up some chocolate chips on his last trip to the grocery store and he came home with a big bag of Reese's Pieces instead.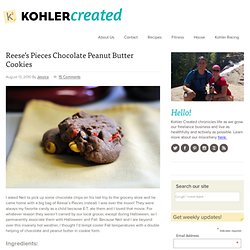 I was over the moon! They were always my favorite candy as a child because E.T. ate them and I loved that movie. For whatever reason they weren't carried by our local grocer, except during Halloween, so I permanently associate them with Halloween and Fall. Because Neil and I are beyond over this insanely hot weather, I thought I'd tempt cooler Fall temperatures with a double helping of chocolate and peanut butter in cookie form.
Ingredients: Chocolate Fudge Butterfinger Cookies… Good Thursday morning!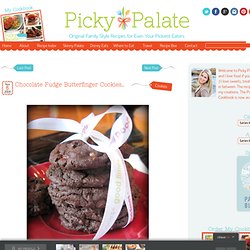 I am in Ohio right now freezing my tail off in the middle of a Smuckers Factory tour and a whole bunch of other cool stuff with some other bloggers. Thanks Smuckers Family for sending me!! I'll be sure to share pictures when I get back I'll leave you today with one of my all time favorite cookies. Oatmeal Cranberry Chocolate Chip Cookies. Homemade Samoas « Yeah, that's right. I made homemade Samoas. OK, so these are a bit more time-consuming to make than your average cookies (there are a few assembly-related steps), but they are so worth it. The Most Popular Cookie Recipe On The Internet. Leave it to the New York Times. For years thousands of bakers have started a seemingly endless quest for the perfect chocolate chip cookie and then one day the New York Times comes along and tells us all what it is.
Well, I suppose the New York Times is a newspaper and finding the secret to making the most delicious rendition of this beloved cookie is news…But, isn't this whole perfect chocolate chip cookie quest a matter of opinion? It's just funny. Felix K.'s 'Don't even try to say these aren't the best you've ever eaten, because they are' Chocolate Chip Cookies Recipe. Thick and Chewy Chocolate Chip Cookies. Dear ErinCooks: I have a chocolate chip cookie conundrum: try as I might I can't get my cookies to the consistency I like.
I am a fan of chewy chocolate chip cookies, not cakey or crunchy, just chewy. I think it must be a butter issue. Should I try margarine or shortening? Maybe it's too much mixing? Chewy Chocolate Chip Oatmeal Cookies Recipe. Chocolate Chip Lava Cookies. I am so in love with these darn chocolate lava cookies! What is it about a warm, gooey chocolate chip cookie stuffed with decadent, rich, melted chocolate that makes it so irresistible??
Especially when topped with vanilla ice cream. These are one of Kev's favorite homemade treats, and he usually asks me to make them at least once a week. They are so simple to whip up, and such a treat! Let's make some right now :) The Infamous Jacques Torres Chocolate Chip Cookies. Now, I have a chocolate chip cookie recipe that I swear by. I love it, I think it is incredible, and I haven't changed my mind about that. However, as much as it pains me to say it, these chocolate chip cookies by Jacques Torres are absolutely, without a doubt, the best chocolate chip cookies that I have ever made or tasted in my entire life. I guess that's why they call him Mr. Chocolate! Browned Butter Oatmeal Cookie Cups. In Praise of Leftovers | Carrot Cake Cookies. 100 Best Holiday Cookie Recipes | MyRecipes.com - StumbleUpon.
---