Cookies
Love brownies.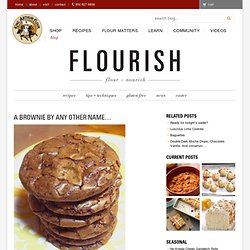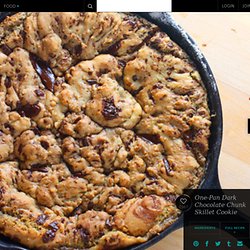 Gojee - food - One-Pan Dark Chocolate Chunk Skillet Cookie One-Pan Dark Chocolate Chunk Skillet Cookie from Sophistimom: (ingredients: Unsalted butter, Flour, Baking soda, Light brown sugar, Semi-sweet chocolate, Eggs; Vanilla extract; Sugar, Salt). What resulted after baking was a cookie with a crispy outer shell on the top and bottom, and a soft center saturated with mini pools of flowing chocolate.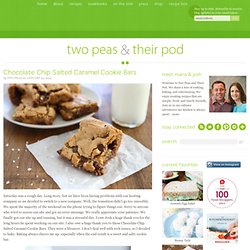 Saturday was a rough day.
By Lauren, on July 20th, 2012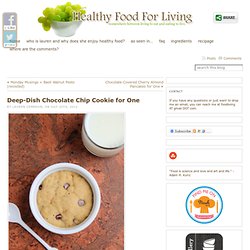 I love recipes that make me feel like I can get away with eating something sweet first thing in the morning. These banana bread cookies do the trick!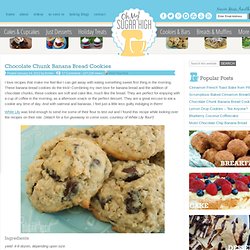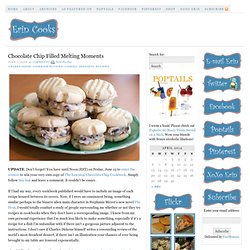 Chocolate Chip Filled Melting Moments
UPDATE : Don't forget!
Lemon melting moments « Itty Bitty Kitchen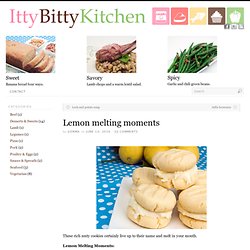 These rich zesty cookies certainly live up to their name and melt in your mouth.
I love oatmeal cookies and I think they're perfect for the holiday season. They're very versatile; you can add almost any combination of things to them. I decided that toffee and white chocolate chips pair together really well, so I thought, why not throw them into some oatmeal cookies?
Toffee White Chocolate Chip Oatmeal Cookies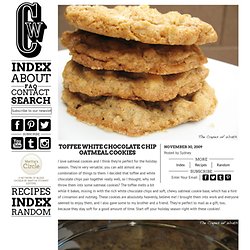 Based on a from long, long ago, I've been toodling around for quite some time with the concept to get, what is to me, the perfect peanut butter cookie.
Peanut Butter Chocolate Chip Cookies
Reese's Pieces Chocolate Peanut Butter Cookies — Kohler Created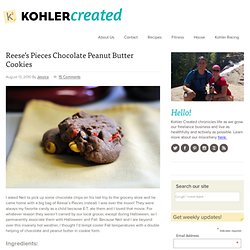 I asked Neil to pick up some chocolate chips on his last trip to the grocery store and he came home with a big bag of Reese's Pieces instead. I was over the moon!
Good Thursday morning!
Chocolate Fudge Butterfinger Cookies…
Oatmeal Cranberry Chocolate Chip Cookies
I was beginning to think that I couldn't make a decent cookie. My last attempt was a miserable cake-y, crumbly fail. Ahem.
Oatmeal Applesauce Cookies with Maple Syrup Icing ~ Cinnamon Spice and Everything Nice Recipe Blog
Old-fashioned cookies made with applesauce, oatmeal, cranberries or raisins and topped with a maple syrup icing.
Yeah, that's right. I made homemade Samoas. OK, so these are a bit more time-consuming to make than your average cookies (there are a few assembly-related steps), but they are so worth it.
Leave it to the New York Times.
The Most Popular Cookie Recipe On The Internet | Chew On That
Thick and Chewy Chocolate Chip Cookies