Complementary Currencies
Hub Culture is a global collaboration network with over 25,000+ members distributed across 110 countries. Their stated mission to expand collective consciousness is driven by the blend of online workspaces for knowledge sharing with offline Pavilions for meeting and connecting – all powered by their digital currency, Ven. Below is an interview with Hub Culture's Founding Director, Stan Stalnaker.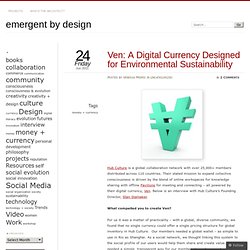 Ven: A Digital Currency Designed for Environmental Sustainability
MERIT MicroEnterprise
www.bibocurrency.org/spanish/Foreword esp.htm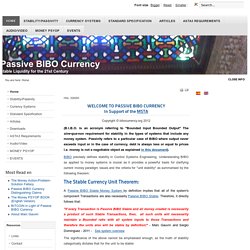 Prólogo Revisión 1.0 Marc Gauvin Copyright © 2011-05-19 Todos los Derechos Reservados "El sistema" está controlado por "el sistema financiero", y este último representa una antiquísima tecnología de la información (TI) que a su vez es tan rudimentaria como arbitraria. Hemos heredado este sistema de forma irracional a través de siglos de sutil condicionamiento y coacción social.
Talk:Main Page - Complementary Currencies Unconference
Mira currency pp june 10
UNILETS Timebank Traders
UNILETS Timecurrency Account: Turmel John C.
Bienvenido al sistema de inserción de intercambios de objetos Puedes insertar gratuitamente uno o más objetos que ofreces (algo que ya no uses y de lo que te quieras desprender) y uno o más objetos que desees a cambio. Una vez completado este proceso, los posibles interesados en tus objetos y quienes puedan tener lo que te interesa se convertirán automáticamente en tus amigos, y podréis intercambiar vuestros objetos, así de simple. Ten en cuenta que mientras más objetos insertes (ofertas y demandas), tendrás más posibilidades de encontrar lo que quieres y te encontrarán más facilmente. Puedes intercambiar todo esto...
Añadir nuevos artículos
Outreach BACE is available to give 1-2 hour presentations on community currencies, covering the basics: what a community currency is, what kinds of currency systems exist, success models, and design considerations. There is no cost, but donations for travel expenses are always welcome. Contact mira (at) sfbace (dot) org for more info.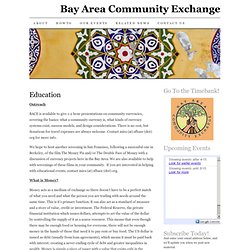 Education – Bay Area Community Exchange
CoinsHD for iPad on the iTunes App Store
Description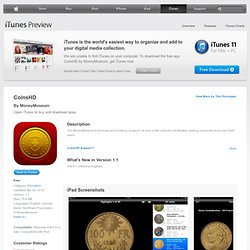 One Blue Dot
ecoSharing: Start Sharing Today
Flattr - Social micropayments
Comunitats.org - banco de tiempo y conocimientos
superfluid | start something!
Sergioguitart