Para testar aqui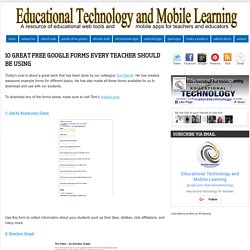 Google Forms is a great free service by Google and that has a huge potential in education. Google Forms is very easy to use and does not require any advanced technology skills to run it. It is automatically built in Google Docs meaning it is completely web-based and does not require any software download. Anyway you can check this simple guide if you are not yet familiar with Google Docs .
Showcase
Follow us on: Twitter Facebook Download Silverlight Plug in Case Studies Companies use Silverlight to build interactive applications and deliver flawless streaming media to audiences on all types of media – web and phone. See the power of Silverlight in action by clicking on a case study.
treemappa.com
Google Ramayana
Insights para pesquisa - Pesquisa na web do Google Interesse: sesc - São Paulo (Brasil), Últimos 90 dias
Look at Cook: Brought to you by Cook County Commissioner John Fritchey
« back to Cook County Budget Explore Cook County's budget from 1993 to 2012 and learn how the money is being spent. Read more or check out the FAQ » Where's the money going? Every year our Cook County government budgets and spends more than $3 billion.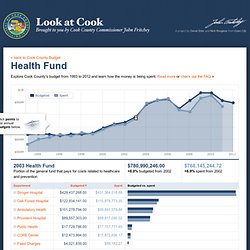 Como usar o Google Refine na sua próxima matéria
Licença do tipo Creative Commons, cortesia de LarimdaME no Flickr. Depois de meses de telefonemas, e-mails e muita paciência, você finalmente obteve o conjunto de dados de uma agência governamental. Antes de sonhar sobre como vai ganhar um prêmio Pulitzer com as matérias incríveis que irá escrever, você percebe que o conjunto de dados é confuso e difícil de entender. O Google Refine permite limpar os dados para que você possa começar a trabalhar neles e tirar conclusões. Primeiro você precisa fazer o download do Google Refine.
Facebook Friends Visualization - YASIV
DrasticTreemap 1.4 is a dynamic treemap component. In the example above, it is used to display all 2155 orders from the well known northwind sales database. Initially, each sales order is represented by a rectangle and colored based on the product that was ordered, The orders are grouped by product category and its size represents the revenue on the order. As you can see, beverages, and diary products had the highest revenue. The largest order was an order for 60 bottles of Côte de Blaye for 263.5 each, without any discount.
Treemap Component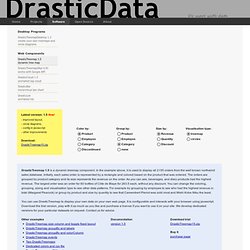 Fast Multidimensional Filtering for Coordinated Views Crossfilter is a JavaScript library for exploring large multivariate datasets in the browser.