Knowledge
FullDocumentary.com. 100 Websites You Should Know and Use. Entertainment Meet David Peterson, who developed Dothraki for Game of Thrones There are seven different words in Dothraki for striking another person with a sword.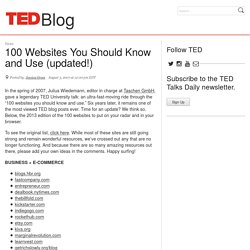 Among them: "hlizifikh," a wild but powerful strike; "hrakkarikh,"a quick and accurate strike; and "gezrikh," a fake-out or decoy strike. But you won't find these words in George R. Wanderlust: GOOD traces the most famous trips in history - StumbleUpon. Western Philosophy - MindMeister Mind Map - StumbleUpon. A&[Internet Encyclopedia of Philosophy] - StumbleUpon. Table of Contents.
Scirus - for scientific information - StumbleUpon.
---