Technology
Software Research Center - Network World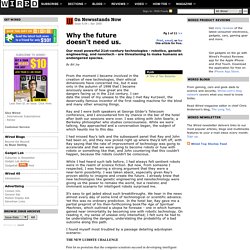 Why the future doesn't need us. Our most powerful 21st-century technologies - robotics, genetic engineering, and nanotech - are threatening to make humans an endangered species. By Bill Joy From the moment I became involved in the creation of new technologies, their ethical dimensions have concerned me, but it was only in the autumn of 1998 that I became anxiously aware of how great are the dangers facing us in the 21st century. I can date the onset of my unease to the day I met Ray Kurzweil, the deservedly famous inventor of the first reading machine for the blind and many other amazing things. Ray and I were both speakers at George Gilder's Telecosm conference, and I encountered him by chance in the bar of the hotel after both our sessions were over.
Wired 8.04: Why the future doesn't need us.
Maximizing Your Mobile Broadband
You may not be able to visit this page because of: an out-of-date bookmark/favourite a search engine that has an out-of-date listing for this site a mistyped address you have no access to this page The requested resource was not found. An error has occurred while processing your request. Please try one of the following pages: Home Page If difficulties persist, please contact the System Administrator of this site and report the error below..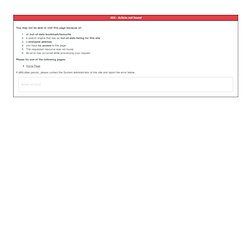 Research lays foundation for new era of electronics
Fortunemod - Fortune Cookie Generator
Fortune for today
18c37a7ff5138e94a54e1c3df319c124.jpg (JPEG Image, 600x1605 pixels) - Scaled (60%)
Main Page - WebGL Public Wiki