Technology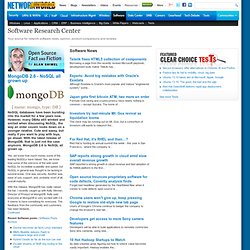 MongoDB 2.6 - NoSQL all grown up NoSQL databases have been bursting into the market for a few years now. However, many DBAs still winked and smiled when discussing NoSQL, the way an older cousin looks down on a younger relative. Cute and sassy, but really if you want to play with toys, go ahead. With the latest release of MongoDB, that is just not the case anymore.
Software Research Center - Network World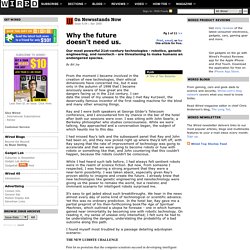 Why the future doesn't need us. Our most powerful 21st-century technologies - robotics, genetic engineering, and nanotech - are threatening to make humans an endangered species. By Bill Joy From the moment I became involved in the creation of new technologies, their ethical dimensions have concerned me, but it was only in the autumn of 1998 that I became anxiously aware of how great are the dangers facing us in the 21st century. I can date the onset of my unease to the day I met Ray Kurzweil, the deservedly famous inventor of the first reading machine for the blind and many other amazing things. Ray and I were both speakers at George Gilder's Telecosm conference, and I encountered him by chance in the bar of the hotel after both our sessions were over.
Maximizing Your Mobile Broadband
You may not be able to visit this page because of: an out-of-date bookmark/favourite a search engine that has an out-of-date listing for this site a mistyped address you have no access to this page The requested resource was not found. An error has occurred while processing your request. Please try one of the following pages: Home Page If difficulties persist, please contact the System Administrator of this site and report the error below..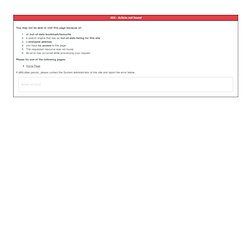 Research lays foundation for new era of electronics
Fortunemod - Fortune Cookie Generator
Fortune for today
18c37a7ff5138e94a54e1c3df319c124.jpg (JPEG Image, 600x1605 pixels) - Scaled (60%)
Main Page - WebGL Public Wiki