Gottamakeit
Build a Food Storage Shelf. Preparation Instructions: Fill all holes with wood filler and let dry.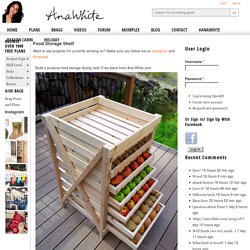 Apply additional coats of wood filler as needed. When wood filler is completely dry, sand the project in the direction of the wood grain with 120 grit sandpaper. Vacuum sanded project to remove sanding residue. How-To plastic bottle green house build guide ! How to construct a Greenhouse using Plastic Water bottles !!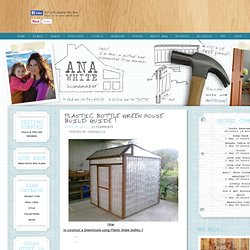 Well I think from the picture you have already seen, I reckon you will have a good idea as how to make your greenhouse, however take a look here à( ) there were certain points on the site that I didn't like, so I adapted my construction a little different to theirs, since my 1st green house I have adapted even more. also I used only 1.5 litre water bottles that friends on the island collect for me, in 3 months I had collected over 7000 bottles, fortunately most had easy peeling labels, the rest are awful to peel, but hey!
It's all for a great cause. Did you know, it takes over 100 years for a single plastic bottle to completely decay? A Valentine's Day Fort on Design Sponge. Paper Flowers – Anyone Can Do That | FindInspirations.com. Japanese Kusudama, this tutorial is featured on Craftuts Anyone can do that, I assure you.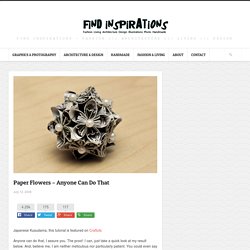 The proof: I can, just take a quick look at my result below. And, believe me, I am neither meticulous nor particularly patient. You could even say I'm the opposite. Home. Home. Home. Home. Home. Lip Smacking Good Dog Treats! Lip smacking good dog treats!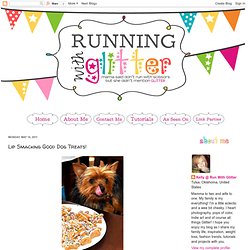 I have a couple of dog treat snob dogs. I don't blame them! Have you read the ingredient list on the store bought ones?... YIKES I thought I would share a great recipe that my doggies gobble up. Paleo Spaghetti. Who says you can't have spaghetti on a Paleo diet?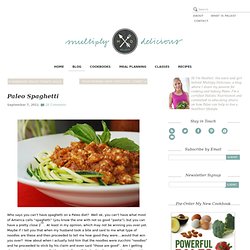 Well ok, you can't have what most of America calls "spaghetti" (you know the one with not so good "pasta"), but you can have a pretty close 2nd. At least in my opinion, which may not be winning you over yet. Home. Easy Sweet Potato Veggie Burgers! With Avocado. Crave a veggie burger.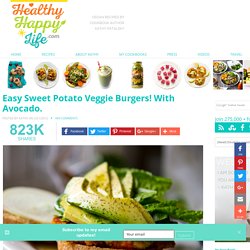 One with Panko-crusted edges - infused with tender sweet potato and creamy, rustic white beans. Tall stacked on a toasted grain bun - crisp romaine leaves sprawling out the sides. Lime green avocado. Solid perfume pocket watch locket. Try as I might, I cannot seem to grasp even the most basic of feminine beauty rituals.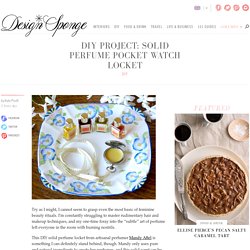 I'm constantly struggling to master rudimentary hair and makeup techniques, and my one-time foray into the "subtle" art of perfume left everyone in the room with burning nostrils. This DIY solid perfume locket from artisanal perfumer Mandy Aftel is something I can definitely stand behind, though. Mandy only uses pure and natural ingredients to create her perfumes, and this solid scent can be easily applied with no risk of over-dousing.
The old pocket watch appeals to my tomboy side, and I love its versatility; you can wear it as a necklace or pin, or simply tuck it into your pocket or purse. I can't wait to make one and give my feminine sensibilities a little boost :) Thanks for sharing this tutorial with us, Mandy! How to screenprint on fabric.
---