iOS Security
A pearltree with pearls related to iOS security; includes iPhone/iPad security apps, and more.
10 iOS Security Apps to Protect Your iPhone, iPad from Hackers - Security. By Fahmida Y.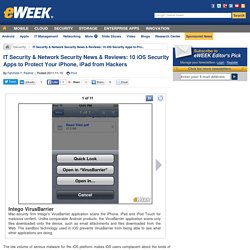 Rashid | Posted 2011-11-15 Email Print. Cisco Connect Express. Description Home networking just got easier.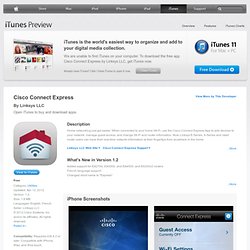 When connected to your home Wi-Fi, use the Cisco Connect Express App to add devices to your network, manage guest access, and change Wi-Fi and router information. Now Linksys E-Series, X-Series and Valet router users can have their real-time network information at their fingertips from anywhere in the home. Key Features: Guest access – An easy way for visitors to get online. Connect Express Mobile App. Like many websites, Linksys uses technologies, such as cookies and web beacons, which allow us to make your visit to our website easier, more efficient and more valuable by providing you with a customized experience and recognizing you when you return.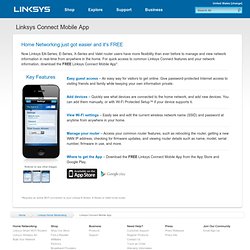 A cookie is a small data file transferred by a website to your computer's hard drive. Linksys's website sends cookies when you visit it, make purchases, request or personalize information, or register yourself for certain services. A cookie cannot read personal data off your hard disk or read cookie files created by other sites; indeed, the only personal information a cookie can contain is information you supply yourself. Accepting the cookies used on our website may give us access to information about your browsing behavior, which we may use to personalize your experience and track user traffic patterns.
Cisco AnyConnect. Description Administrators – If you have any questions regarding licensing or would like evaluation licenses, please contact ac-mobile-license-request (AT) cisco.com and include a copy of "show version" from your Cisco ASA.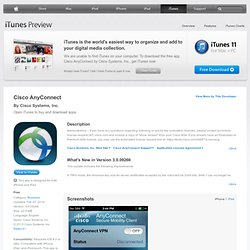 If you already have an Essentials or Premium ASA license, you may use the automated license request tool at: Please note that AnyConnect for iOS requires a Cisco Adaptive Security Appliance (ASA) running software image 8.0(3).1 or later. The ASA requires an AnyConnect Mobile license (L-ASA-AC-M-55XX=), as well as either an AnyConnect Essentials (L-ASA-AC-E-55XX=) or AnyConnect Premium Clientless SSL VPN Edition (L-ASA-AC-SSL-YYYY=) license, where XX is the last two digits of your ASA model number and YYYY is the number of simultaneous users.
AnyConnect Secure Mobility Client for Apple iOS User Guide, Release 2.4. Junos Pulse. Description Junos Pulse for iOS enables secure connectivity over SSL VPN to corporate applications and data from anywhere, at any time.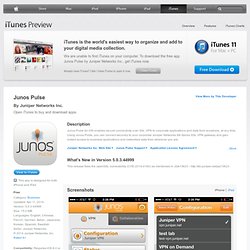 Using Junos Pulse, you can connect securely to your corporate Juniper Networks SA Series SSL VPN gateway and gain instant access to business applications and networked data from wherever you are. REQUIREMENTS:Juniper Networks SA Series SSL VPN Gateway running version 6.4 or later. Learn more at. Accellion. Description The Accellion iOS Mobile App is designed for Accellion business and enterprise customers.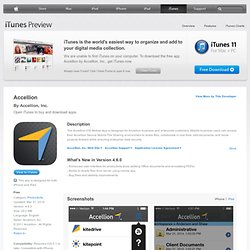 Mobile business users can access their Accellion Secure Mobile File Sharing environment to share files, collaborate in real-time, edit documents, and move projects forward while ensuring enterprise data security. This Accellion iOS Mobile App lets users:•Securely create, edit and view Microsoft Office files (Excel, Powerpoint and Word) using Accellion Mobile Productivity Suite, either online or offline. Mobile Access | Secure File Transfer - Secure Collaboration - Managed File Transfer - Accellion. SplashID Safe for iPad for iPad on the iTunes App Store.
SplashID FAQ for iPhone and iPod Touch. If you don't find the answer to your question in the FAQs below, you may request technical support here.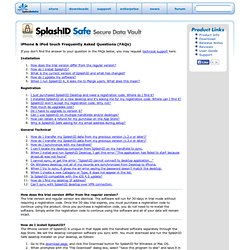 Installation Registration General Technical How does the trial version differ from the regular version? Webroot SecureWeb Browser. Description Webroot® SecureWeb™ is the most advanced web browser for your iPhone®, iPad®, and iPod® Touch.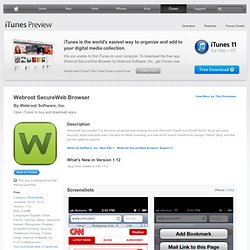 Shop and bank securely, block malicious sites, use tabs for faster browsing, and see which search results from Google, Yahoo! , Bing, and Ask are the safest to explore. iPhone, iPad Security Apps & Protection − SecureWeb for iOS Devices. GadgetTrak. Laptop theft recovery software, stolen laptops, data protection, theft recovery software for laptops.
With all of the photos, contacts, apps and music on your iPhone, losing it would be a massive pain.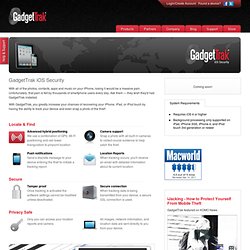 Unfortunately, that pain is felt by thousands of smartphone users every day. Ask them — they wish they'd had GadgetTrak installed. With GadgetTrak, you greatly increase your chances of recovering your iPhone, iPad, or iPod touch by having the ability to track your device and even snap a photo of the thief! McAfee WaveSecure. Download McAfee WaveSecure for iPhone, the backup and restore service for your phone. App Store - Lookout Mobile Security - Free.
Description Don't lose your iPhone or iPad again!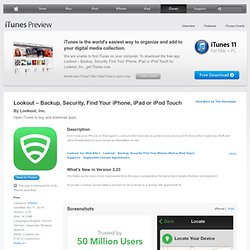 Lookout is the best way to protect your precious iOS device from data loss, theft and other threats that put your personal information at risk. See why more than 50 million users trust Lookout to protect their devices! Lookout is the ONLY all-in-one security app that:- Locates your lost device from anywhere, on any internet connected device- Automatically saves your device's location before it runs out of battery - Backs up your contacts automatically- Notifies you if you have an out-of-date or insecure version of iOS. Download Mobile Antivirus Software | Free Download for Mobile Antivirus Protection.
Millions Trust Lookout Download from Google Play Get Lookout for Android One download protects you from mobile threats, keeps your data backed up, and helps locate your phone if it's stolen or lost. Get more info Lookout for Business lets you keep company data confidential with remote Lock and Wipe. VirusBarrier. Description Stop viruses and malware from passing through your iPhone or iPad and infecting your Mac or PC with this easy-to-use app from Intego, the Apple security leader. Using Intego's award-winning VirusBarrier technology, this app detects and eradicates threats before they can harm your home and business networks and computers. Your iPhone, iPad and iPod touch are new vectors for bringing potentially damaging files into your network and spreading them onto your macs and PC's.
VirusBarrier for iPhone: Protect Your iPhone By Scanning for Malware. VirusBarrier iOS - The first malware scanner for iPhone, iPad and iPod touch. Don't Let Your iOS Devices Start Trouble Our easy-to-use app is built with our award-winning VirusBarrier technology to detect and eradicate threats before they can harm your files, computers or networks. The VirusBarrier iOS scanner lets you validate, view and save any e-mail attachment, file on your device, or file from a remote location (such as Dropbox). Open your files with confidence knowing they've been scanned for viruses, worms, Trojan horses, and all other known Mac OS X and Windows malware.
---