ART
LEBENSON GALLERY
A Night With JonOne | Portable Film Festival
* LAURINA PAPERINA *
MOBYPOD TV - EXPO NASTY- MIST
Street Art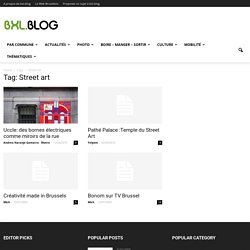 Sur la Rue Borgval, qui se jette sur la Place Saint Gery, il y a, juste en face du Café Central, une façade sans vie, au milieu de ce quartier très animé du centre ville. Tous les Bruxellois connaissent les lieux et en fonction de leur âge ont éventuellement pu y assister à un événement culturel, puisqu'il s'agit de la façade arrière du Pathé Palace, …. Les dernières nouvelles indiquaient un permis d'urbanisme accordé en 2010, mais cela semble oublié. Il y a bien un site qui nous indique que les rénovations "ont lieu". Message soutenu par une affiche, pas encore jaunie, sur les vitres
Le street-art, ou art urbain, est un mouvement artistique contemporain. Il s'agit de toutes formes d'art réalisé dans la rue ou dans des endroits publiques et englobe diverses méthodes telles que le graffiti, le graffiti au pochoir, les stickers, les posters, la projection vidéo, les installations de lumière, la céramique, etc. Le street-art parsème l'univers visuel des grandes cités. On en retrouve sur les murs, les trottoirs, les rues, dans les parcs ou sur les monuments.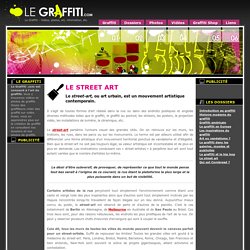 street art manifesto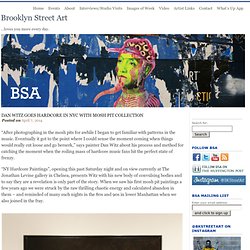 Posted on January 4, 2014 Peru's Entes & Pésimo are back in Lima after a nice few days painting in Miami last month and have brought their eye popping color palette to the side of a handful of homes that line the hills of this city. Local favorites who consider their work to be as close to the community as it can be, the graffiti artists are integral to the cityscape, telling the stories of its inhabitants one or two at a time.
Street Artist Interview - Ibie
Artist name: Fat IbieCity of Birth: BarcelonaCity of Choice: MexicaliHow many years have you been painting: En el colegio me llamaban el rallajero, nuncan entendieron mis dibujitos y me ponian insuficiente en dibujo y plástica. Espero empezar a pintar algún día.Website: www.rrarmy.com & www.fotolog.net/ibie Likes: Regreso al futuro, Star wars y Mallrats Dislikes: Bety al fea y los Serrano What do you want to express at the time you are painting? Rabia, amor, sexo y música.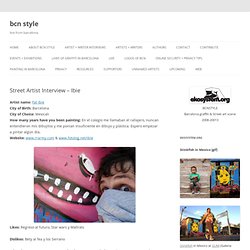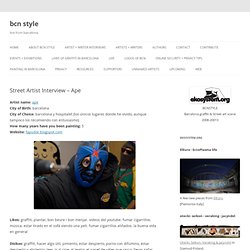 Artist name: apeCity of Birth: barcelonaCity of Choice: barcelona y hospitalet (los únicos lugares donde he vivido, aunque tampoco los recomiendo con entusiasmo)How many years have you been painting: 5Website: fapudor.blogspot.com Likes: graffiti, plantar, bon beure i bon menjar. vídeos del youtube. fumar cigarrillos. música. estar tirado en el sofá viendo una peli. fumar cigarrillos aliñados. la buena vida en general Disikes: graffiti, hacer algo útil, pimiento, estar despierto, porno con difumino, estar despierto y abstemio, leer, ir al cine, al teatro, el papel de váter que rasca, llevar gafas, viajar en metro y escribir gilipolleces. What do you want to express at the time you are painting?
Street Artist Interview - Ape
Galerie Patricia Dorfmann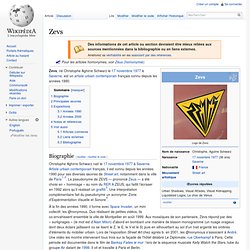 Un article de Wikipédia, l'encyclopédie libre. Zevs Logo de Zevs
Zevs
Mouvement artistique e « Street art » est l'art, développé sous une multitude de formes, dans des endroits publiques ou dans la rue. Le terme englobe la pratique du graffiti, du graffiti au pochoir, de la projection vidéo, de la création d'affiche, du pastel sur rues et trottoirs. Le terme « street art » est habituellement utilisé pour distinguer une forme d'art d'un acte de vandalisme réalisé par un individu ou un groupe d'individus qui défendent leur territoire, qui expriment par le billet du graffiti leur appartenance à un groupe ou encore qui désirent passer un message qui n'a aucune valeur artistique. La valeur subversive du « street art » est très puissante et les motivations qui poussent les artistes à afficher leur art dans la rue sont des plus variées.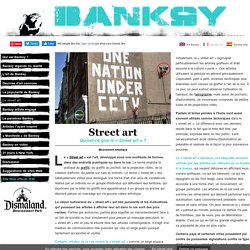 streetartlocator.com is a community google map mashup mapping st