Language
Get flash to fully experience Pearltrees
If you're searching for that one-of-a-kind English-to-Hebrew dictionary that suits your specific needs, you've come to the right place! Types of English to Hebrew Dictionaries Whether you're looking for free English-to-Hebrew dictionaries online, software which converts English words into Hebrew words, a handheld electronic English-to-Hebrew device, a pocket English-to-Hebrew dictionary with the most common Hebrew phrases and Hebrew slang, or a hardcover dictionary which translates words from English to Hebrew and vice versa, you'll get the full scoop right here. An English-to-Hebrew dictionary is a must-have tool and handy accessory for language lovers, students of the Hebrew language, tourists and businesspeople embarking on a trip to Israel, and anyone else with an interest in learning Hebrew or understanding the Bible.
The Hebrew Basic Course is designed to teach spoken and written modern Hebrew that is the ordinary, informal speech of educated native Israelis.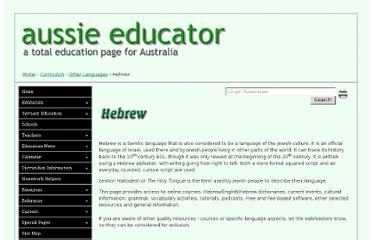 Hebrew is a Semitic language that is also considered to be a language of the Jewish culture.
Free Glossaries Choose from our free glossary collection, add new glossaries to your Babylon translation software at no charge