Cracked 8
7 Reasons Vladimir Putin Is the World's Craziest Badass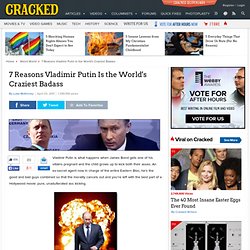 Vladimir Putin is what happens when James Bond gets one of his villains pregnant and the child grows up to kick both their asses.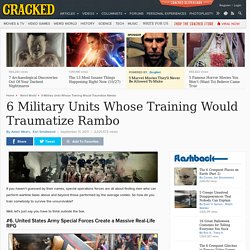 6 Military Units Whose Training Would Traumatize Rambo
If you haven't guessed by their names, special operations forces are all about finding men who can perform wartime tasks above and beyond those performed by the average soldier. So how do you train somebody to survive the unsurvivable? Well, let's just say you have to think outside the box.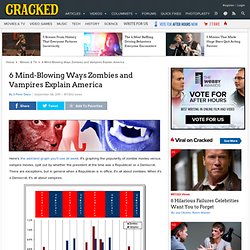 Here's the weirdest graph you'll see all week. It's graphing the popularity of zombie movies versus vampire movies, split out by whether the president at the time was a Republican or a Democrat.
6 Mind-Blowing Ways Zombies and Vampires Explain America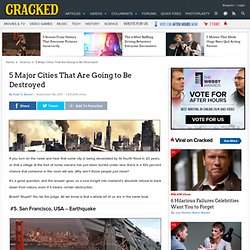 If you turn on the news and hear that some city is being devastated by its fourth flood in 20 years, or that a village at the foot of some volcano has just been buried under lava, there is a 100 percent chance that someone in the room will ask, Why don't those people just move? It's a good question, and the answer gives us a nice insight into mankind's absolute refusal to back down from nature, even if it means certain destruction. Brave?
5 Major Cities That Are Going to Be Destroyed
If movies are to be believed, hackers are mostly kept busy fighting the man with CGI animations of smiley faces, or else dwelling in the darkest corners of their mothers' basements and doing purely nerdy stuff that never affects the real world.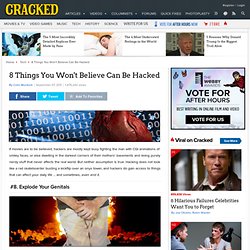 8 Things You Won't Believe Can Be Hacked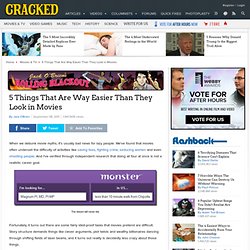 When we debunk movie myths, it's usually bad news for lazy people.
5 Things That Are Way Easier Than They Look in Movies
6 Global Warming Side Effects That Are Sort Of Awesome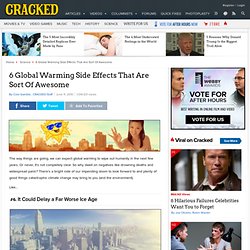 The way things are going, we can expect global warming to wipe out humanity in the next few years.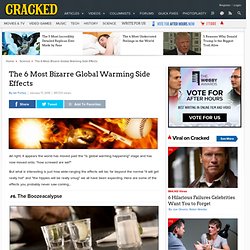 All right, it appears the world has moved past the "is global warming happening" stage and has now moved onto, "how screwed are we?"
The 6 Most Bizarre Global Warming Side Effects
We accept on a regular basis the premise that our minds are being screwed with. Advertisers, politicians, magicians; we accept that they know the tricks to pull the wool over our eyes. But as it turns out, the ways in which your head is being truly and royally messed with the most, are coming from inside.
5 Ways Your Brain Is Messing With Your Head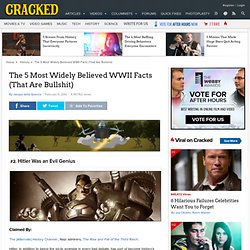 The 5 Most Widely Believed WWII Facts (That Are Bullshit)
Hitler Was an Evil Genius
6 Animals That Kill Nature's Scariest Creatures For Fun
We have made it our mission to celebrate the underrated badasses of the animal kingdom because in general, Hollywood has taught us to be afraid of the wrong creatures.
They say history is written by the winners, but the truth is even stranger than that.
The 5 Most Widely Believed WWII Facts (That Are Bullshit)
After millennia of research, experts still don't know very much about the human brain.
The 6 Most Frequently Quoted Brain Facts (That Are Total BS)
The 5 Most Depraved Sex Scenes Implied by 'Harry Potter'
The Harry Potter series has sold billions of dollars worth of books, movie tickets and DVDs because it's one of those rare series that children can enjoy but won't make adults want to gouge out their eyes.
Like millions of people living on the East Coast, I was recently confronted with the full force of nature's fury: Hurricane Irene.
8 Ways Suburban Apathy Got Me Through Irene: A Hero's Story
7 Creepy Video Game Easter Eggs You'll Wish Were Never Found
6 Adorable Cat Behaviors With Shockingly Evil Explanations
6 Shockingly Evil Things Babies Are Capable Of
The 5 Most Horrible Things Nobody Tells You About Babies
6 Beneficial Things They Made You Stop Doing in School
7 Reasons Computer Glitches Won't Go Away (Ever)
6 Reasons The Guy Who's Fixing Your Computer Hates You
6 Shockingly Affordable Sci-Fi Inventions
5 Insane New Uses for Old School Military Weapons