Cracked 1
If you watch TV during the middle of the day or late at night, market research has discovered that you're stoned, broke, lonely, uneducated and unemployed.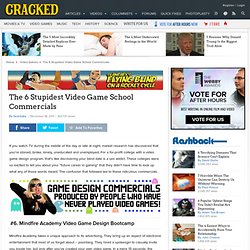 The 6 Stupidest Video Game School Commercials
6 Things Movies Love to Get Wrong About The Workplace
Hollywood loves to make movies about businesses, because that's where all the peasants in their audience work. But writers and directors aren't exactly corporate experts and often don't even know what an average office job is like. That's why they've come up with these weird misunderstandings of how companies work.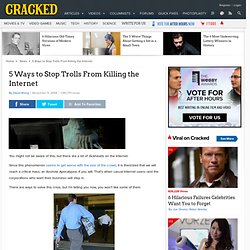 You might not be aware of this, but there are a lot of dickheads on the Internet. Since this phenomenon seems to get worse with the size of the crowd, it is theorized that we will reach a critical mass; an Asshole Apocalypse, if you will.
5 Ways to Stop Trolls From Killing the Internet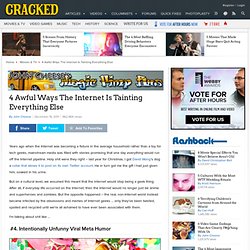 Years ago when the Internet was becoming a fixture in the average household rather than a toy for tech geeks, mainstream media was filled with stories promising that one day everything would run off the Internet pipeline.
4 Awful Ways The Internet Is Tainting Everything Else
6 Video Games That Just Didn't Get It (And 6 That Did)
When it comes to developing video games, it turns out that "Kick Ass And Be Awesome" isn't a specific enough mission statement. You can't blame people for all the games that suck, because anyone who went into gaming and ended up making Bratz: The Movie for Wii no longer counts as a person.
Quick: Look to your left, then look to your right. One of those people is a nerd. It's easy to tell which one, just look for the nerd-shaped hole in the universe where a person used to be.
5 Personality Flaws Skyrim Forces You To Deal With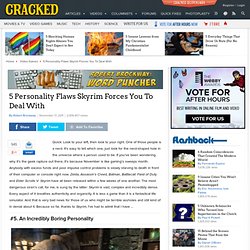 The 5 Most Horrifyingly Wasteful Film Shoots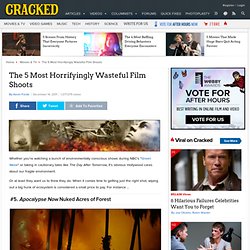 Whether you're watching a bunch of environmentally conscious shows during NBC's " Green Week " or taking in cautionary tales like The Day After Tomorrow , it's obvious Hollywood cares about our fragile environment. Or at least they want us to think they do. When it comes time to getting just the right shot, wiping out a big hunk of ecosystem is considered a small price to pay.
Since the sexual revolution of the '60s, we tend to think that sexuality from the Baby Boomers back to the beginning of time was a long history of repressed urges, prudish fundamentalist restrictions and brutal rape politics. But it turns out that a lot of what BBC dramas tell you about sex in history is just a fanciful cover for sex lives that didn't differ that much from our own. Myths that persist to this day include ...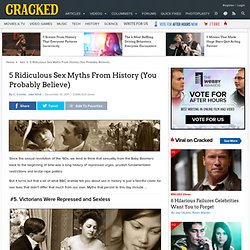 5 Ridiculous Sex Myths From History (You Probably Believe)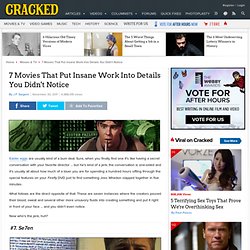 Easter eggs are usually kind of a bum deal. Sure, when you finally find one it's like having a secret conversation with your favorite director ... but he's kind of a jerk, the conversation is one-sided and it's usually all about how much of a loser you are for spending a hundred hours sifting through the special features on your Firefly DVD just to find something Joss Whedon slapped together in five minutes. What follows are the direct opposite of that: These are seven instances where the creators poured their blood, sweat and several other more unsavory fluids into creating something and put it right in front of your face ... and you didn't even notice.
The 5 Hardest, Most Pointless World of Warcraft Achievements
If you're a gamer, you're probably familiar with "achievement" systems, where you get a little virtual badge every time you complete a game goal, like finish a level, or some arbitrary task the developer happened to think of, like collect all the pink-colored guns in the game. The Xbox Live Gamerscore system is basically the grandfather of all achievement systems.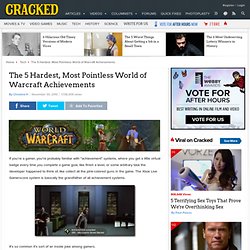 It should come as no surprise that battlefields see their share of brave men.
5 Soldiers Whose Horrific Injuries Only Made Them Angry
Reckless charges into danger make for great action movie scenes, but not good battle strategy.
5 Soldiers Who Kicked Ass In the Face of Death (and Logic)
Back in the old days, we didn't have all these gadgets to tell us how full something was or how hot the day was, we just looked at the thing or noticed how much we were sweating. Now that we have all the fancy gauges and buttons modern life provides to us, we may have gotten a little bit overdependent on them.
8 Gadgets That Lie to You Every Day
World of Warcraft: A 12-Step Program
Everyone says World of Warcraft is addictive.
5 Disturbing Ways the Human Body Will Evolve in the Future
We don't think of ourselves as changing: We're the same basic meat-popsicles we've always been.
6 Ways World of Warcraft is Worse Than Real Life
The 7 Most Elaborate Dick Moves in Online Gaming History
6 Bizarre Forms of Discrimination That Can Lose You a Job
5 Ways Science Could Make Us Immortal
5 Tiny Computer Glitches That Caused Huge Disasters
A Letter to Parents About the Fake 'Teen Crazes' on the News
The 10 Most Insulting Things Video Games Charged Money For
6 Happy Endings That Accidentally Screwed The Movie's Hero
7 Useful Genetic Experiments That Are Creepy As Hell