Artistes
SOPHIE BRUERE, PLASTICIENNE LUMIERE
Startseite]
Carlo Bernardini - artista - Italy
LUMINARIE DE CAGNA(SEBASTIANO)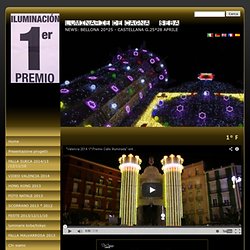 Foto: Galatina Natale 2013 Spett. Luminarie De CagnaCome già comunicato ufficialmente e come annunciato nella conferenza stampa di presentazione dell'Evento, tenutasi venerdì scorso presso la Provincia di Lecce, Le è stato conferimento il prestigioso ed esclusivo Riconoscimento Particolare de "il Sallentino".Il meritato riconoscimento, Le verrà consegnato nel corso della "serata d'onore" che si svolgerà a Lecce presso l'ex convento dei Teatini sul corso Vittorio Emanuele, a pochi passi da piazza duomo, domenica 8 settembre con inizio alle ore 20.30, che concluderà la X edizione della Settimana della Cultura Salentina ed Euromediterranea.Confidando nella sua graditissima disponibilità a ritirare il Premio conferitoLe, rimaniamo a Sua disposizione per ogni ulteriore informazione in merito.Con i migliori saluti. Quando l'Arte incontra Il Maschio Angioino: la nuova opera firmata De Cagna Anteprima Mondiale
Bienvenue - CT Light Concept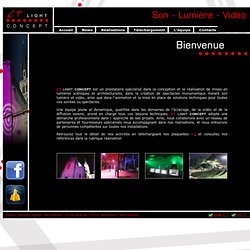 ct light concept est un prestataire spécialisé dans la conception et la réalisation de mises en lumières scéniques et architecturales, dans la création de spectacles monumentaux mélant son lumière et vidéo, ainsi que dans l'animation et la mise en place de solutions techniques pour toutes vos soirées ou spectacles. Une équipe jeune et dynamique, qualifiée dans les domaines de l'éclairage, de la vidéo et de la diffusion sonore, prend en charge tous vos besoins techniques. ct light concept adopte une démarche professionnelle dans l´approche de ses projets. Ainsi, nous collaborons avec un réseau de partenaires et fournisseurs spécialisés nous accompagnant dans nos réalisations, et nous entourons de personnes compétentes sur toutes nos installations. Retrouvez tout le détail de nos activités en téléchargeant nos plaquettes ici, et consultez nos références dans la rubrique réalisation
kin Design
Carlos Cruz Diez
artiste plasticien - Nom de domaine gratuit redirigé par New.fr
19m² / romain t + aalto
Strukt
Blog
Photo: Resonate The 3 days in Belgrade that are the Resonate Festival are perhaps the most intensely packed and compressed segments of time imaginable. They seem in the moment to flash by in an epic and chaotic blast of inspiration and then to linger for days, weeks and it now seems likely, months after-the-fact as its implications are processed and absorbed. For those who are not familiar with this relatively new festival, Resonate's mission statement is "Bringing together artists to drive a forward-looking debate on the position of technology in art and culture" and that the festival is a "platform for networking, information, knowledge sharing and education.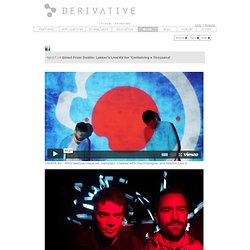 lightdeck
Making cool Shit and having a laugh doing it Another great performance with the robots along with an incredible ensemble of amazing musicians. Congrats to the guys for 5 Grammy Wins!!! Overcame the challenge of maintaining the immersive intensity of a packed night club inside the US's largest venues. Had the pleasure of spearheading the design of a 46,000lbs circular video screen and mountain that split open in front of the audience. When we think we have done everything we could do on the stage....
bionicleague.com: Home
VSLZK 2009
Kimchi and Chips
Founder & Artistic Director Working with one of the most elusive and often under-appreciated elements in creating unique atmospheres,Thierry Dreyfus has been deemed as "[the man] who is making the City of Light live up to its name. The designer is the master of the soft glow, bright beams and laser lines" by Suzy Menkes of the International Herald Tribune. Art director and artist since 1985, Thierry Dreyfus got his first taste of lighting in theater and opera, and since gone on to develop his own artistic mise en scène. After designing light installations for the 2000 Lyon Biennale and working on a commission for the Caisse des Dépôts et Consignations, he lit up the Grand Palais for its reopening in 2005.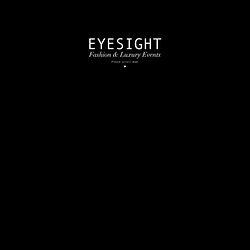 Fashion & Luxury Events » Comptoir des Cotonniers FW 10-11
LIGHT CIBLES - Design Lumière & Architecture - - Lighting Design and Architecture
Thierry Dreyfus
Edges
Leo Villareal
Kit Webster
Lumpens
ERNESTO KLAR
hol
IVÁN NAVARRO
We Flashy | stand out in a flash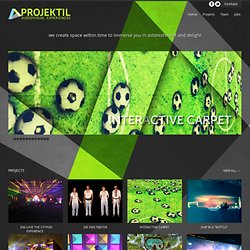 As tailors of light, we're bringing emotional experiences to narrative structure and creating interactive research via site specific light experiences. We want to fascinate, transform and enchant. Our passion for the interplay of light, colour, form and music is our compelling desire to redefine the existing perception of projection and interaction design. The ultimate goal is for the technology to be invisible. We create magic, wonder and an emotional impact/connection between people.
PROJEKTIL - visual art experiences
PIXINESS - Oeuvre d'art lumineuse, numérique et interactive à échelle urbaine par Axel Morgenthaler
Jason Bruges Studio | Welcome
TILT - concepteurs lumière
TILT designs and creates lighting for stages, luminous sets for events and performances, offers permanent installations for cultural centers (museums, contemporary arts exhibition,…) and installations for artistic events such as the "Fête des Lumières" in Lyon, White Nights in Paris, Bilbao or Amiens, Lights and Trees Festival in Geneva, Glow Festival in Eindhoven… The specificity of TILT is to develop the two fundamental features of lighting design: creating luminous elements, and, through a reflexive staging of these elements, creating site-adapted illuminated universes. The installation will enrich and complete the light sculptures in a subtle relationship and blur the borders between indoor and outdoor, nature and urban. Beyond the search for innovation in design and technology, their light sculptures, enhanced by an oneiric and original vision, reveal elements of the everyday life and offer surprising luminous creations.
HeHe
Nouveautés - Ingo Maurer FR
Light + Building 2014 / Salone del Mobile 2014 Frankfurt / Mailand Vom 30.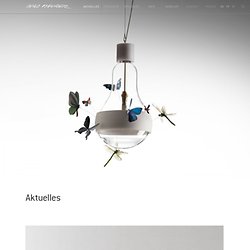 The United States of America is going out of business! But here at the U.S. Department of Homeland Graffiti, we want to turn this moment of national embarrassment and hard times into real savings for you and your family. From June 4th through the 28th, the U.S.D.H.G and the Graffiti Research Lab are liquidating all confiscated, high-tech graffiti artifacts and tools, expunged evidence, court exhibits, redacted documents and office furnishings, priced to sell. So grab a handful of Euros or Mao Bucks (U.S. currency still accepted while supplies last) and head on down to Gallery Anno Domini located between U.S. Routes 101 and 280 in Silicon Valley, California.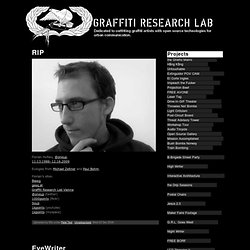 Graffiti Research Lab
Nathan Coley- doggerfisher
Light Installations by Tamar Frank
Bienvenue / site évolutif | Le SAS - Scénographie, Architecture du Spectacle
Bildmaschine
Conception lumière architecturale - concepteur lumière