Urban fantasy lit and graphic novels
So, this last weekend -- October 4th, 5th, and 6th -- I was in Ottawa for Can-Con: The Conference on Canadian Content in Speculative Arts and Literature which was, in 2013, hosting Canvention 33. Now, because there's been some confusion, this is how it goes: Can-Con is a yearly Ottawa convention and has been a yearly Ottawa convention since at least 1992. Canvention is the yearly Canadian national convention which, because we have one heck of a lot of geography, is hosted at a different Canadian convention every year, alternating east and weat.
Live the Dream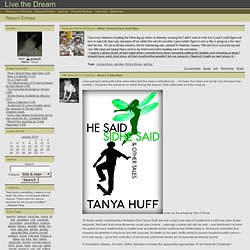 The Twilight Saga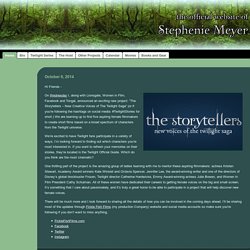 August 14, 2013 Hi everyone, I'm just back from my short publicity tour for Austenland, and very glad to be home with my boys. I hope you all are having a wonderful summer with your families, and that you have a few more weeks to enjoy (unlike Arizona, where we were back to school last week). With all the travelling, I only just heard about the current controversy, and I am both surprised and dismayed.
Kelley Armstrong | #1 New York Times Bestselling Author
We can add two more events to Jim's 2014 schedule! First, Jim will be heading to Chatanooga next month for Con Nooga! Con Nooga is located at the Historical Chattanooga Choo Choo Hotel and Chattanooga Convention Center, and will take place February 21st through 23rd. Historical Chattanooga Choo Choo Hotel 1400 Market Street Chattanooga, TN 37402 Chatanooga Convention Center 1150 Carter St Chattanooga, TN 37402 Additionally, Jim had such a great time at WyrdCon last year, he's returning for this year's madness!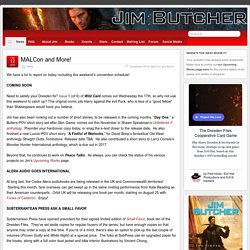 Nothing to Envy, Barbara DemickThe Last Minute, Jeff AbbottCurtsies and Conspiracies, Gail CarrigerThe Cuckoo's Calling, Robert GalbraithDaughter of the Empire, Lady Pamela HicksWritten in Blood, Anne Bishop Since David Sedaris was generous enough to tout Barbara Demick's book, I was glad to buy it. It's everything he said it was, and amore. Demick's account, built from many interviews of people who'd escaped from North Korea to South, is a unique book about a country that prides itself on keeping secrets. Under Communist rule, North Korea has ground to a halt, the economy so depressed that factories don't run, so people don't work, so . . . they starve to death. Nothing to Envy is shocking and touching and unforgettable.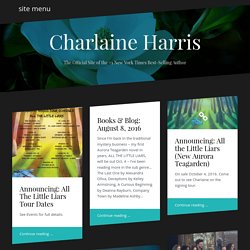 Mercy Thompson Series Fan Club | Fansite with photos, videos, and more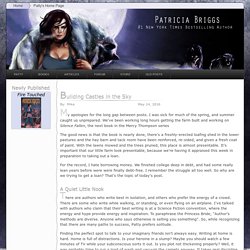 By: Mike Jan 3, 2014 Patty's publisher, predictably, promotes and publicizes her paginated paper products. Er, helps advertize her books. One of the common promotional methods is to send early release copies of a book to major reviewers, bookstore buyers etc. These advanced readers copies (or ARCS) are typically printed based on an early manuscript, before final edits were complete) so there are often some glaring grammar errors and what Patty calls "construction debris" still in the manuscript.
Hurog: Home