Org+Ass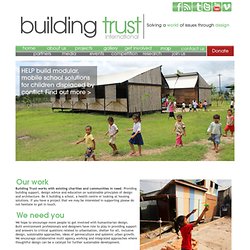 We regularly hold design competitions to raise funds and get the best solution to a global issue. Our most recent competitions are related schools for migrant and refugee communities, housing in flood risk areas and the rise of single occupancy housing and the poor standard of living that many elderly and young poor are forced to live in. You can see the shortlists by clicking the images on the right.
Building Trust international - Solving a world of issues through design.
CAADRIA, the Association for Computer-Aided Architectural Design Research in Asia
What is CAADRIA? The Association for Computer-Aided Architectural Design Research in Asia (CAADRIA) promotes teaching and research in CAAD in Asia, and has members on six continents. It organizes an annual conference, the first of which was held in 1996 in Hong Kong. Since then, 18 conferences have been held in Australia, China, Hong Kong, India, Japan, Korea, Malaysia, Singapore, Taiwan, and Thailand. The next conference, in 2014, will be held in Kyoto Institute of Technology, Kyoto, Japan.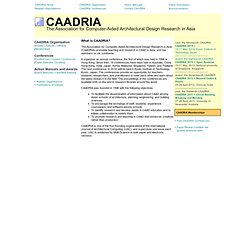 IEAAU - Institute for East Asian Architecture and Urbanism
The Hong Kong Institute of Architects
AAa/e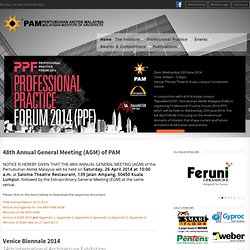 Pertubuhan Akitek Malaysia
Sunday, 19th January 2014,6:19:38pm Venice Biennale 2014 14th International Architecture Exhibition Registration of interest by 22 January 2014 Invitation to participate at the Malaysia Pavilion at Venice Biennale 2014
Construction: Information, Sales Leads, Projects, Market Data | Welcome to BCI Asia
Login HomeMainpageAbout UsProfileCommitteeMembersEventsActivitiesAwardArcasia AwardPublicationNew ReleaseLibraryCollectionContact UsGet in Touch X2 Kui Buri Resort, Kuiburi, Thailand Education Resource Center, Singapore Nest, Hiroshima, Japan Parkview Green Fangcaodi, Beijing, China ARCASIA
International Interior Design Association (IIDA)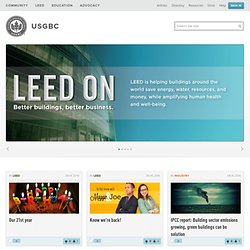 2013 Center for Green Schools President's Award: Mary Spilde, Lane Community College At the Greenbuild International Conference and Expo in Philadelphia in November 2013, USGBC recognized those who've shown outstanding dedication to the movement to green our built environment through the annual Leadership Awards. Mary Spilde, president of Lane Community College in Eugene, Ore., received the 2013 Center for Green Schools President's Award, one of two awards given each year to outstanding college and university presidents, one from a two-year and one from a four-year institution... The green building community is rooting for the Eagles this NFL post-season Greenbuild 2013 meets Greenbuild 2014 when the Philadelphia Eagles meet the New Orleans Saints in the first round of the NFL playoffs this weekend, and much of the green building community will be cheering for the team in green.
World Green Building Council :: Home
Posted by Garrett Jacobs on Dec 30, 2013 Related program: Year in Review Archives Happy New Year! We kick off 2014 by reflecting on a year of building a more sustainable world through the power of design. Ease the holiday transition with inspiring stories, emotional testimonials and beautiful images of passion and talent. Remember this is only one of 15 years to be celebrated as we prepare for our 15th anniversary.