Accessablity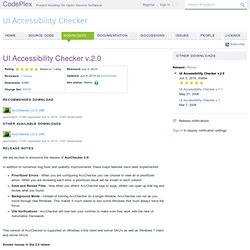 UI Accessibility Checker - Download: UI Accessibility Checker v.2.0
We are excited to announce the release of AccChecker 2.0! In addition to numerous bug fixes and usability improvements, these major features have been implemented: Prioritized Errors - When you are configuring AccChecker you can choose to view all or prioritized errors. When you are reviewing each error, a prioritized result will be shown in each columnSave and Reload Files - Now when you attach AccChecker logs to bugs, others can open up that log and review what you found.Background Mode - Instead of running AccChecker on a single Window, AccChecker can run as you move through new Windows.
Imagine... every device automatically changing into a form you can understand and use, instantly, whenever and wherever you encounter it. The purpose of the Global Public Inclusive Infrastructure (GPII) is to ensure that everyone who faces accessibility barriers due to disability, literacy, digital literacy, or aging, regardless of economic resources, can access and use the Internet and all its information, communities, and services for education, employment, daily living, civic participation, health, and safety. As our countries build out their broadband infrastructures to ensure that broadband reaches everyone, it is important that 'everyone' includes people with disability, literacy and aging related barriers to Internet use. We need to be sure that we don't stop at just connecting people to the Internet - but that we also see to it that they can actually use it, and benefit from all that it has to offer.
Home | gpii.net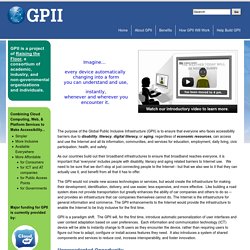 WAI: Strategies, guidelines, resources to make the Web accessible to people with disabilities What WAI Does WAI develops...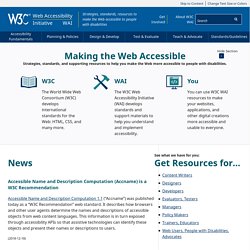 Using an Access Database