Overflow 2
Like it or not – Shipping Container Homes are coming to a lot near you! « The Life and Times of a "Renaissance Ronin"
My family is building a home using shipping containers as structure.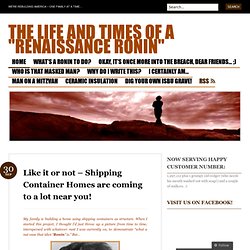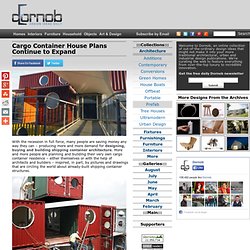 With the recession in full force, many people are saving money any way they can – producing more and more demand for designing, buying and building shipping container architecture. More and more people are planning and building their very own cargo container residence – either themselves or with the help of architects and builders – inspired, in part, by pictures and drawings that are circling the world about already-built shipping container structures. There are many plans available for you to create your own container home and architects who specialize in residential reuse of cargo containers, but few home shipping container structures to date rival the creativity and functionality of Container City – which makes it an excellent case study for anyone considering creating their own container home. This project fuses elements of prefabrication and efficiency with style and expressive livability.
Cargo Container House Plans Continue to Expand
Cargo Architecture: 10 Shipping Container Homes & Offices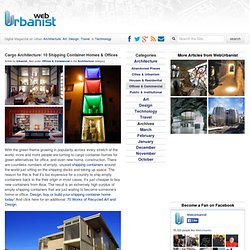 Shipping Container Homes
Kalkin & Co.
Home Is Where the Cargo Was | BusinessWeek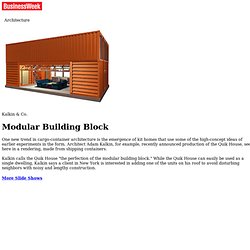 Steel Buildings Become More Popular for Residential Homes
Cargo Container Home Designs by Architects & Builders
Cargo container homes show no sign of slowing down. With the ever growing population of disused and deserted shipping containers around the world more and more designers are finding creative ways to adaptively reuse containers to create houses and multi-family homes and more. HybridSeattle is a West Coast architectural firm that has created a number of real-life shipping container buildings and has also envisioned a number of other fixed and mobile architectural designs based on cargo container modules. Built and unbuilt, their work is impressive and just the tip of the architectural iceberg.
Want your own container house? There's a six-month waiting list for the Quik House by architect Adam Kalkin, who is based in New Jersey. The distinctive Quik House comes in a prefabricated kit, based on recycled shipping containers (in fact a completed house is about 75% recycled materials by weight). The standard Quik House offers 2,000 square feet, three bedrooms and two and one-half baths, though larger options are also available.