Steampunk
Get flash to fully experience Pearltrees
In this example of electroplating I will show you how to electroplate nickles, quarters and dimes with the copper from pennies.
Magazine pages for toner transfer:
The Steampunk Keyboard looked terribly anachronistic sitting in front of my Dell 1907FP flat panel monitor and while I hesitated to tear open a $300 monitor that was still under warrantee, art must be served.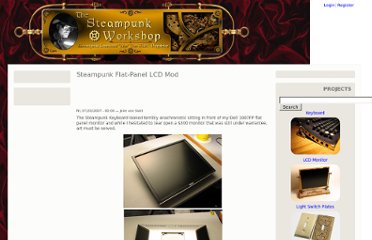 My goal with this project was to build a retro keyboard that was fully functional and of a sufficient quality that it could be used everyday by a touch typist.
A recurring theme here over the last couple of weeks has been watching me desperately trying to dig myself out from under a mountain of unorganized papers, which pretty much describes the regular chaos of my life.
Vintage wooden storage crates are a delightful addition to any steampunk office, but are often hard to find and priced high enough to be a deterrent to most people. The rustic charm is very appealing however, so one DIY crafter decided to make herself vintage wooden crates from old shipping pallets. You can see exactly how to build your own set of these beautiful vintage wooden storage crates over at DIY Diva.
Each light sculpture is one of a kind and handcrafted at my Studio in Berlin. The Machine Light series comprises 12 different models produced in low volume production. Each object is manually produced from up to 200 individual parts.