Nike
Nike + Paint With Your Feet. For the launch of the Nike Free Run+ 2 City Pack series, YesYesNo was invited to develop software that would allow runners to create dynamic paintings with their feet using their Nike+ GPS run data.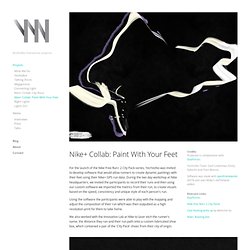 During the two day workshop at Nike headquarters, we invited the participants to record their runs and then using our custom software we imported the metrics from their run, to create visuals based on the speed, consistency and unique style of each person's run. Using the software the participants were able to play with the mapping and adjust the composition of their run which was then outputted as a high resolution print for them to take home. We also worked with the Innovation Lab at Nike to laser etch the runner's name, the distance they ran and their run path onto a custom fabricated shoe box, which contained a pair of the 'City Pack' shoes from their city of origin.
Basketball - Epic - Nike Family: Live - US. Nike Catch The Flash (English) Red All Over. Nike Sportswear Ice Cream Truck. Nike Lab Awards Site. Nike launched its Nikelab website as their 'home of innovation' for the 2008 Beijing Olympic Games.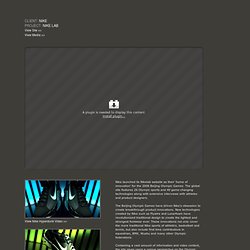 The global site features 26 Olympic sports and 40 game-changing technologies along with extensive interviews with athletes and product designers. The Beijing Olympic Games have driven Nike's obsession to create breakthrough product innovations. New technologies created by Nike such as Flywire and Lunarfoam have revolutionized traditional design to create the lightest and strongest footwear ever. These innovations not only cover the more traditional Nike sports of athletics, basketball and tennis, but also include first time contributions in equestrian, BMX, Wushu and many other Olympic federations.
Nikegrid. NikeMag Back For The Future. Nike Unveils Nike+ Basketball and Training Technology. Nike today unveiled Nike+ Basketball and Nike+ Training, two new experiences connecting digitally enabled footwear with interactive mobile applications that together deliver a revolutionary sport experience.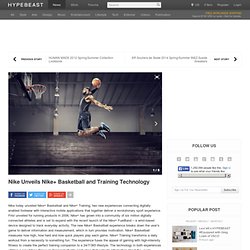 First unveiled for running products in 2006, Nike+ has grown into a community of six million digitally connected athletes and is set to expand with the recent launch of the Nike+ FuelBand – a wrist-based device designed to track everyday activity. The new Nike+ Basketball experience breaks down the user's game to deliver information and measurement, which in turn provides motivation. Nike+ Basketball measures how high, how hard and how quick players play each game.
---