Scotland
Scottish Highlands & Islands. Great Scots. Great Scots. Scottish Independence: Scotland 'would face legal woes' over plan to keep the pound - Top stories. Plans by the Scottish Government to keep the pound if Scotland wins independence have come under fire from financial lawyers. • Scotland 'could not force UK to regulate its currency'. • Scottish Government says keeping pound 'will preserve the highly integrated UK financial services market'.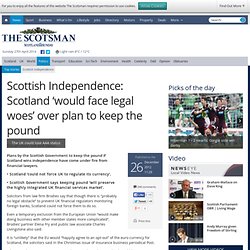 Moridura - - - ©Copyright Peter Curran 2012: The role of negotiation in Scotland's progress towards independence. It rarely surprises a professional negotiator when politicians and media professionals betray their ignorance of the processes of negotiation – after all, professionals in many fields – the law, diplomacy, industry and commerce - where one might expect some level of negotiating skill, or at least a basic understanding of the principles to be a prerequisite of effective performance seem to manage to function with this gaping hole in their skills set.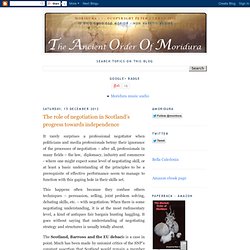 This happens often because they confuse others techniques – persuasion, selling, joint problem solving, debating skills, etc. – with negotiation. When there is some negotiating understanding, it is at the most rudimentary level, a kind of antiques fair bargain hunting haggling. It goes without saying that understanding of negotiating strategy and structures is usually totally absent. The Scotland, Barroso and the EU debacle is a case in point. Scotland in Europe | Scottish Independence. The story behind Chanel's love affair with Scotland.
As Chanel prepares to showcase its latest Métiers d'Art collection at Linlithgow Palace in Scotland tonight, discover the luxury brand's love affair with the country.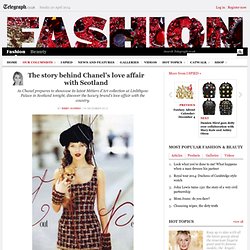 BY Bibby Sowray | 04 December 2012 Kate Moss wearing a Scottish tweed Chanel dress in a shoot for Vogue Italia in 1993. Photo: Arthur Elgor Tonight will see the great and good of the fashion world wrap up warm and head to Linlithgow Palace, just outside the Scottish capital of Edinburgh, to watch Chanel's latest Métiers d'Art show. UK needs Scotland for global influence, says expert. Professor Richard Whitman has statted that if Scotland becomes independent, the rest of the UK will lose status in the world Scottish independence: UK needs Scotland for global influence, says expert by Róisín O'Brien A political expert has stated that the UK's influence in the world may decline if Scotland becomes independent.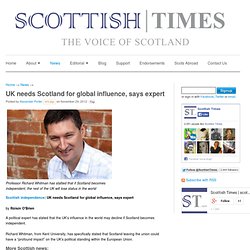 Richard Whitman, from Kent University, has specifically stated that Scotland leaving the union could have a "profound impact" on the UK's political standing within the European Union. The Scotland you wish to see. I sometimes worry about the leftward edge of the Yes Scotland coalition.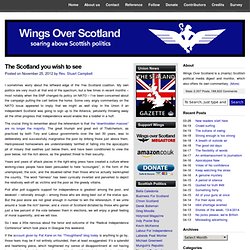 My own politics are very much at that end of the spectrum, but a few times in recent months – most notably when the SNP changed its policy on NATO – I've been concerned about the campaign putting the cart before the horse. Some very angry commentary on the NATO issue appeared to imply that we might as well stay in the Union if an independent Scotland was going to sign up to the Alliance, petulantly throwing away all the other progress that independence would enable like a toddler in a huff. The crucial thing to remember about the referendum is that the "downtrodden masses" are no longer the majority. The great triumph and great evil of Thatcherism, as practiced by both Tory and Labour governments over the last 30 years, was to deliberately and successfully marginalise the poor by bribing those just above them. Scotland could avoid the Euro | Scottish Independence.
Scotland and Norway: a special relationship? | Andrew Boyle. Burns suppers are a Scottish export to Norway.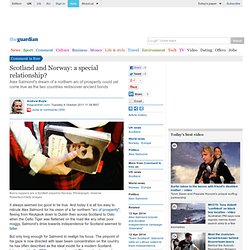 Photograph: Graeme Robertson/Getty Images It always seemed too good to be true. And today it is all too easy to ridicule Alex Salmond for his vision of a far northern "arc of prosperity", flexing from Reykjavik down to Dublin then across Scotland to Oslo: when the Celtic Tiger was flattened on the road like any other poor moggy, Salmond's drive towards independence for Scotland seemed to falter. David Cameron wants Scotland to remain in UK. 3 October 2011Last updated at 17:28 David Cameron says he is a passionate believer in the union David Cameron said he wanted Scotland to stay in the union but accepted the decision was one for its people alone.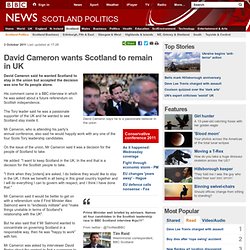 His comment came in a BBC interview in which he was asked about a future referendum on Scottish independence. The Tory leader said he was a passionate supporter of the UK and he wanted to see Scotland stay inside it. Just a thought… - The Anti Arty Farty Party. So there's a possibility that membership of the EU will, after all, be debated in Westminster and might — I'll believe it when I see it — be put to a referendum.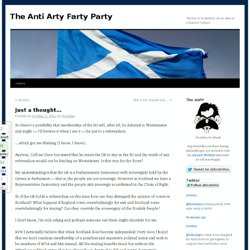 …which got me thinking (I know, I know). Anyway, Call me Dave has stated that he wants the UK to stay in the EU and the result of any referendum would not be binding on Westminster. Is that true for the Scots? Discover Robert Burns - The Robert Burns Birthplace Museum. Ooyah bu..... Chaîne de scottishgovernment. Newsnet Scotland.
Close BBC Scotland and abolish the licence fee in Scotland. SNP - Scottish National Party. Undiscovered Scotland: Home Page. Caledonian Mercury: Scottish news, stories and intelligent analysis from Scotland's first truly online newspaper.
---