Recipes
Stuffed Green Peppers. Twice Baked Potatoes. Hiiii Abby!!!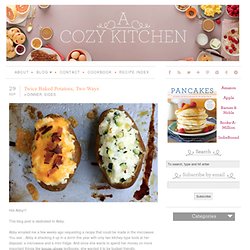 This blog post is dedicated to Abby. Abby emailed me a few weeks ago requesting a recipe that could be made in the microwave. Simple Tiramisu. For a lazy summer afternoon, tiramisu is the perfect pick-me-up.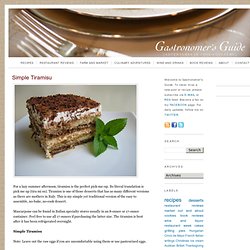 Its literal translation is pick me up (tira mi su). Tiramisu is one of those desserts that has as many different versions as there are mothers in Italy. This is my simple yet traditional version of the easy to assemble, no-bake, no-cook dessert. Mascarpone can be found in Italian specialty stores usually in an 8-ounce or 17-ounce container. Bacon and Cheddar Macaroni & Cheese. 1 Bring a medium (6- to 8-quart) pot of water to a boil.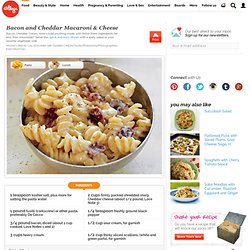 Salt it generously (it should taste like the sea). Stir in the pasta and cook according to the package directions. Drain (but don't rinse, or you'll rinse away starches that will help thicken the sauce) and return to the empty pot. 2 Meanwhile, place a large (12- to 14-inch) sauté pan over high heat for several minutes. When hot, add the bacon and sauté until browned and crispy (lower the heat to medium-high if necessary to prevent scorching), about 5 minutes. Remove the pan from the heat and, using a slotted spoon or spatula, remove the bacon from the pan and drain on paper towels. 3 Pour off the fat from the pan (into a metal can or heatproof cup, not down the drain or you'll potentially clog your pipes) and return the pan to medium-high heat.
Sourdough Bread Starter Recipe. Bacon Salt. Garlic Knots. When I was in High School, I thought garlic knots were the best things on earth.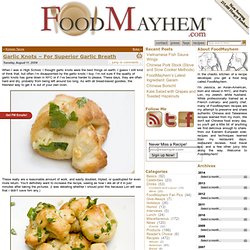 I guess I still kind of think that, but often I'm disappointed by the garlic knots I buy. I'm not sure if the quality of garlic knots has gone down in NYC or if I've become harder to please. These days, they are often hard and dry, probably from being left around too long. As with all bread-based goodies, the freshest way to get it is out of your own oven. These really are a reasonable amount of work, and easily doubled, tripled, or quadrupled for even more return. Bacon Unwrapped.
---