HTPC
S Cabana | Media Center Themer. Media Center Themer is the very uninspired name of a small tool I developed for Windows Media Center.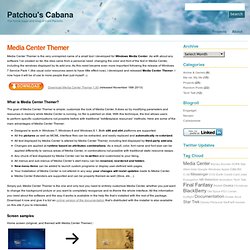 As with about any software I've created so far, the idea came from a personal need: changing the color and font of the text in Media Center, including the windows displayed by its add-ons. As this need became even more important following the release of Windows 7 Service Pack 1 (the usual color resources seem to have little effect now), I developed and released Media Center Themer. I now hope it will be of use to more people than just myself :-).
Download Media Center Themer 1.50 (released November 16th 2013) What is Media Center Themer? Media Center Studio. Hacking Windows 7 Media Center - Plugins Codecs FFDShow dvrmstoolbox showanalyzer comskip haali shark007 - Hack7MC.com. MEDIAPORTAL - a HTPC Media Center for free! Mce-community.
---