Recipes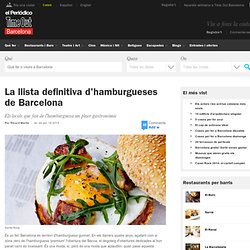 Santa Burg És un fet: Barcelona és territori d'hamburguesa gurmet. En els darrers quatre anys, agafant com a zona zero de l'hamburguesa 'premium' l'obertura del Bacoa, el degoteig d'obertures dedicades al bon panet carni és incessant. És una moda, sí, però és una moda que aplaudim: quan passi aquesta bogeria, quedaran funcionant les bones adreçes. I cada cop hi ha més diversitat i matissos en l'assumpte. Des de Time Out hem seguit molt de prop el fenomen, i això ens autoritza a oferir-vos el llistat definitiu d'hamburgueses de Barcelona.
La llista definitiva d'hamburgueses de Barcelona - Restaurants i Bars
Beer Recipes and Resources for Homebrewers. All-Grain, Extract, and Partial Mash Recipes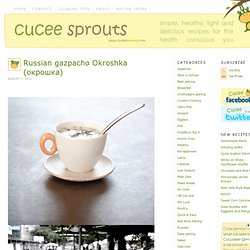 Odessa, Ukraine. My husband and I are dressed to go out. Dinner, then a nightclub at a beach.
Russian gazpacho Okroshka (окрошка)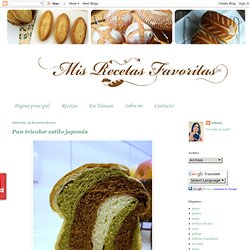 Mis recetas favoritas: Pan tricolor estilo japonés
Creo que todos los que vimos el pan de una panadería japonesa en París que colocó David Levobitz en su última entrada, nos pareció impresionante. No dio receta, sólo nos dejó con las ganas :)) Me dejó "picada" e inspirada de inmediato, y con dos recetas de pan bicolor, una de mi nuevo libro coreano (del que les hablé en mi entrada de bollitos de yogurt y miel) y otra de una revista de panadería japonesa editada en Taiwan, me propuse a hacer las variaciones y adiciones necesarias para lograr algo similar, incorporando una capa extra de masa con cacao, y cambiando el relleno de pasta de frijol azuki por Nutella!!! Aunque les puedo asegurar que la combinación de té matcha con azuki es sensacional!! Si tienen acceso a ella, no dejen de probarla, pero para hacerlo un poco más accesible, usé la famosa pasta achocolatada. Este fue el resultado, duplicando la receta que les doy a continuación: Dos panes de moldes hermosos, uno con una capa adicional de Nutella, y el otro sin ella.
Are you befuddled by what nutrition experts mean by "eating healthy"? The U.S. Department of Agriculture (USDA) recommends loading up on fruits, veggies, whole grains and lean meats — sure, that sounds simple, but which fruits and veggies? What kinds of whole grains? And what constitutes a lean meat? (LIST: Make Over Your Diet in One Week: 7 Days of Healthier Meals)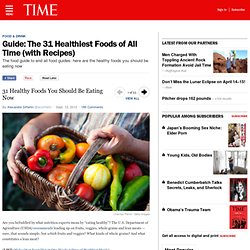 Black Beans | Guide: The 31 Healthiest Foods of All Time (with Recipes)
Healthy Weeknight Dinners : Recipes and Cooking : Food Network
Vegetable Meatloaf with Balsamic Glaze Recipe : Bobby Flay
In place of empty calories these 10 desserts deliver vitamins, antioxidants and fiber in a tasty package that can provide more vegetables for your diet. This recipe from takes the classic French upside-down tart and turns it on its head by using eggplant rather than traditional apples. Eggplant is slightly bitter, but when combined with sugar and then caramelized, its the texture and subtle sweetness that shine. And if you have a hard time getting your mind around the idea, think of it this way: Eggplant is classified botanically as a fruit. So really, this is just another fruit tart. Find the recipe here: Eggplant Tarte Tatin with Black Pepper Caramel
10 Luscious Desserts with Hidden Vegetables : Page 10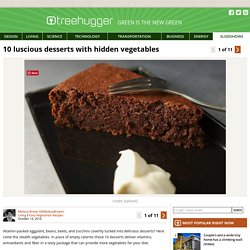 5 Bloody Marys You've Never Had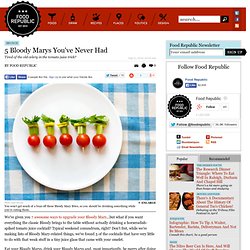 Photo: Sam Horine You won't get much of a buzz off these Bloody Mary Bites, so you should be drinking something while you're eating them. We've given you 7 awesome ways to upgrade your Bloody Mary...but what if you want everything the classic Bloody brings to the table without actually drinking a horseradish-spiked tomato juice cocktail? Typical weekend conundrum, right?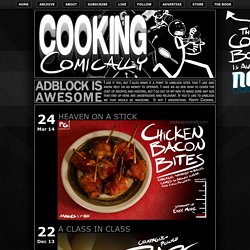 Stay hungry, my friends.
Nov 13 It's Electric. So, Boing Boing asked me to do a recipe for them. The only caveat is that it involve caffeine. Done and Done. Oct 13
Whole Head Roasted Cauliflower Recipe
Our 25 Most Popular Recipes of 2011
Photo: Mark Shaw And why shouldn't your meatballs be stuffed? When we looked over the 25 most popular recipes of 2011 on Food Republic, it suddenly became clear: you love dude food. Which is great, because it's what we love to cook. Give us your tired burgers, your unstuffed meatballs, your wings that haven't been soaked in booze of any kind. Give us your plain old fries and we'll cover them with gravy and cheese.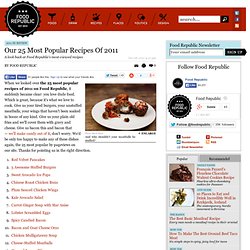 World's 50 most delicious foods
"There is no love sincerer than the love of food," George Bernard Shaw said. Judging by the number of amazing dishes out there, he was right. But which are the tastiest? Which are the best foods? We've scoured the planet for what we think are 50 of the most delicious foods ever created.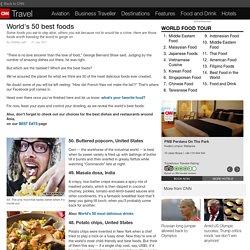 World Hearth Recipe Collection
Recipe: Frozen blackberry souffle
Frozen blackberry souffle Total time: 55 minutes, plus freezing and optional softening time Servings: 8 to 10