iNFOS
Open source software is booming: here we round up over 480 open source applications for you to use or build upon. Feel free to add more apps in the comments. And don't forget to subscribe to Mashable for the latest web news and resources. Also see the other entries in this series: ONLINE PRODUCTIVITY GOD , WORDPRESS GOD , ONLINE MEDIA GOD and FIREFOX GOD . Accounting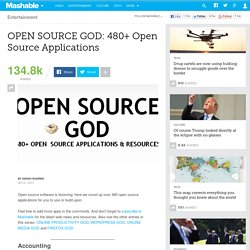 Operating Systems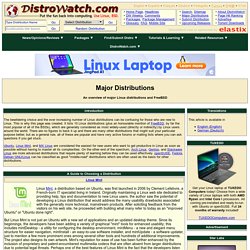 Top Ten Distributions
The launch of Ubuntu was first announced in September 2004. Although a relative newcomer to the Linux distribution scene, the project took off like no other before, with its mailing lists soon filled in with discussions by eager users and enthusiastic developers. In the few years that followed, Ubuntu has grown to become the most popular desktop Linux distribution and has greatly contributed towards developing an easy-to-use and free desktop operating system that can compete well with any proprietary ones available on the market. What was the reason for Ubuntu's stunning success? Firstly, the project was created by Mark Shuttleworth, a charismatic South African multimillionaire, a former Debian developer and the world's second space tourist, whose company, the Isle of Man-based Canonical Ltd, is currently financing the project.
Linux Distributions - Facts and Figures
Digging for Truth
Themes Choose your theme for Groklaw: Presiding juror in Microsoft-Motorola trial a renowned geneticist Among the interesting tidbits to come out of the recently concluded Microsoft-Motorola patent trial is this fact: The presiding juror was Mary-Claire King, a University of Washington professor and a renowned geneticist who played a leading role in the identification of breast cancer genes.
This is a category of articles relating to software that meets The Free Software Definition. That is to say that users can freely use, study, copy, redistribute, modify, and publish modified versions of the software, making it "free software" or "open-source software". In practical terms, this means either software whose source code has been released into the public domain, or software which is distributed with a free software license, including, but not limited to, the list of FSF approved software licenses, and whose source code is available to anyone who receives a copy of the software. Going forward, please add articles to specific sub-categories instead of to this general category. Subcategories This category has the following 41 subcategories, out of 41 total.
Category:Free software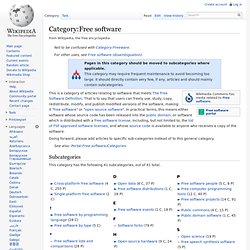 Category:Free software websites
Category:Software developer communities