Datenformat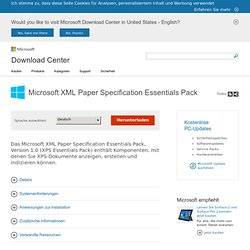 XPS Essentials Pack Version 1.2 - Microsoft Download Center - Download Details
Übersicht Mit dem XPS Essentials Pack können Sie schon nach kurzer Zeit XPS-Dokumente anzeigen und erstellen. Enthalten sind der XPS-Viewer EP zum Anzeigen von XPS-Dokumenten und der Microsoft XPS Document Writer zum Erstellen von Dokumenten im XPS-Format.
File Extension Library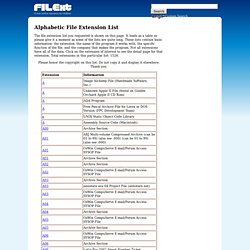 The file extension list you requested is shown on this page. It loads as a table so please give it a moment as some of the lists are quite long. These lists contain basic information: the extension, the name of the program it works with, the specific function of the file, and the company that makes the program.
Alphabetic File Extension List
Grixel™ - Greek Pixel Fonts | Fonts for Web, Multimedia, PDA and Mobile Design
Dateiendungen
Dateiendungen
Endungen.de - Weisst du wie's endet? - Das Dateiendungen-Nachschlagewerk im Internet
Kategorie: Datenformat
Dateiformat
Ein Dateiformat definiert die Syntax und Semantik von Daten innerhalb einer Datei .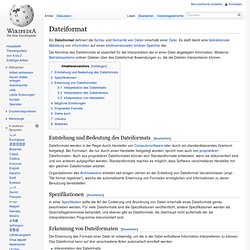 Datenformat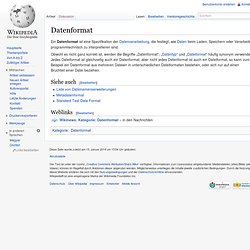 Ein Datenformat ist eine Spezifikation der Datenverarbeitung , die festlegt, wie Daten beim Laden, Speichern oder Verarbeiten programmtechnisch zu interpretieren sind. Obwohl es nicht absolut korrekt ist, werden Begriffe "Datenformat", " Datentyp " und " Dateiformat " häufig synonym verwendet.
Liste von Dateinamenserweiterungen
Prozesse & Dateien Identifizieren