Datenformat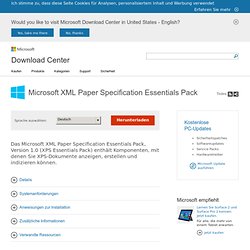 XPS Essentials Pack Version 1.2 - Microsoft Download Center - Download Details
Das Microsoft XML Paper Specification Essentials Pack, Version 1.0 (XPS Essentials Pack) enthält Komponenten, mit denen Sie XPS-Dokumente anzeigen, erstellen und indizieren können. Hinweis: Für diesen Download stehen mehrere Dateien zur Verfügung. Wenn Sie auf die Schaltfläche "Herunterladen" geklickt haben, werden Sie aufgefordert, die benötigten Dateien auszuwählen.
File Extension Library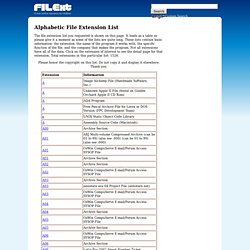 The file extension list you requested is shown on this page. It loads as a table so please give it a moment as some of the lists are quite long. These lists contain basic information: the extension, the name of the program it works with, the specific function of the file, and the company that makes the program.
Alphabetic File Extension List
Grixel™ - Greek Pixel Fonts | Fonts for Web, Multimedia, PDA and Mobile Design
Dateiendungen
Endungen.de - Weisst du wie's endet? - Das Dateiendungen-Nachschlagewerk im Internet
Kategorie: Datenformat
Artikel, die sich mit Datenformaten befassen.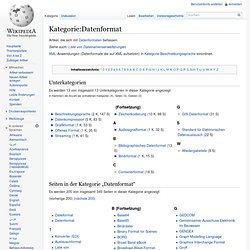 Dateiformat
Ein Dateiformat definiert die Syntax und Semantik von Daten innerhalb einer Datei.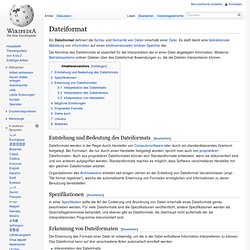 Datenformat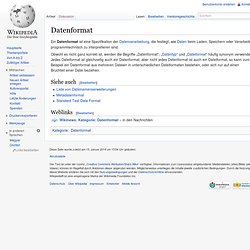 Ein Datenformat ist eine Spezifikation der Datenverarbeitung, die festlegt, wie Daten beim Laden, Speichern oder Verarbeiten programmtechnisch zu interpretieren sind. Obwohl es nicht absolut korrekt ist, werden Begriffe "Datenformat", "Datentyp" und "Dateiformat" häufig synonym verwendet.
Liste von Dateinamenserweiterungen
In dieser Liste sind übliche Dateinamenserweiterungen aufgelistet, die in einigen Betriebssystemen zur Unterscheidung von Dateiformaten verwendet werden. In anderen Betriebssystemen erfolgt die Dateitypenidentifikation hauptsächlich über den Dateivorspann und bei E-Mail-Anhängen hat der MIME-Type eine größere Bedeutung als die Dateinamenserweiterung. Systeme, die nach den beiden letztgenannten Vorgehensweisen verfahren, ignorieren die Erweiterung meist vollständig.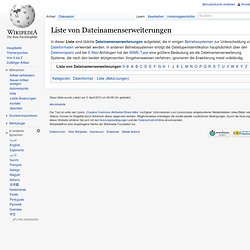 Prozesse & Dateien Identifizieren