Create Text Online
Wondersay - Animate text with style
Pen And Ink __________________________________
pookatoo.com - gothic/vampire/fantasy/glittery text maker for your myspace, friendster or blog
Texter
Free Flash Text and Logo Generator | Thefreelogomakers.com
Instant Logo Generator We introduce our Instant Logo Maker. This new logo generator is our most fully featured logo generator to date. Select from hundreds of design and customize the logo to suite your needs.
Generators / Image Makers | thefreelogomakers.com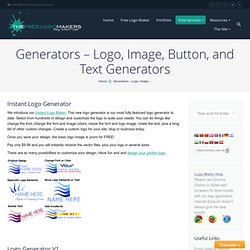 3DTextMaker.com - Create Free 3D Banners for Your Web Pages!
eeemo
Logo Design and Name Generator
Logo Design and Name Generator
Font Meme: Text Generator Online
Font Meme is all about fonts. Originally started as a text generator, Font Meme allows you to browse and view information about fonts by themes, languages and symbols. Then you can generate text image with fonts of different styles. In addition, we maintain an online archive of "Fonts in use" by constantly exploring and identifying fonts used in the logos, movies posters, TV shows, band logos, album covers etc. If you want to find the font used for a logo, a TV show title etc, you can get started by browsing our "Fonts in use" categories on the left or simply search it using the search form below.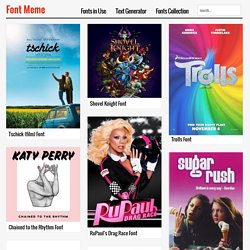 web 2.0 Logo Creator Online. Design and Create Free Logos
Missing or Broken Files When you get a 404 error be sure to check the URL that you are attempting to use in your browser.This tells the server what resource it should attempt to request. http://example.com/example/Example/help.html In this example the file must be in public_html/example/Example/ Notice that the CaSe is important in this example. On platforms that enforce case-sensitivity example and Example are not the same locations.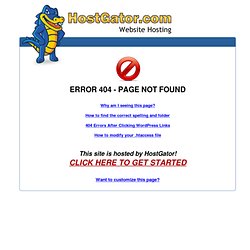 Free Online Logo Maker, Generator Tool
Font Image Generator - Create images from text
Logo Creatr
( The English version you can find here ) Mit dem Web 2.0 Logo Creator kannst Du schnell und unkompliziert Dein eigenes Web 2.0 Logo erstellen . Um das Web 2.0 Logo zu erstellen, benötigst Du kein Howto oder irgendwelche teueren Programme. Es ist kinderleicht! Probier es einfach aus! Und erstelle Dein eigenes Web 2.0 Logo .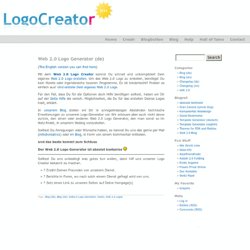 Online Logoerstellung - Kostenlos Logo erstellen
Make Free Professional Logos Online, Logo Maker, Logo Creator
Gratis Schablonen aus Schriften herstellen
Rainbow Text Color Fader - Gradient text for email, forums, etc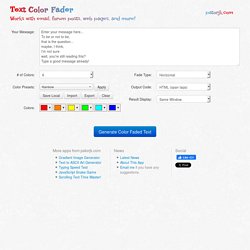 This application allows you to generate color faded text that can be used to help decorate emails, webpages, profiles, a message board / forum post, a text document, and whatever else you can think of. You can use the different designs to help show off your personality or to just pimp out something like an email signature. Dark colors can help you give off a certain moodiness while lighter colors are easy on the eye. A variety of output formats are available, though you will most likely want to generate HTML color codes. Be sure to try different options for the "Fade Type" feature. Lots of different fading styles are available, and you may find that one style fits what you're doing better than the others.
Create Glitter Text - Textured Text for your website
Make a Glitter Text - Glitter maker - Picasion
MySpace Frosty Words Generator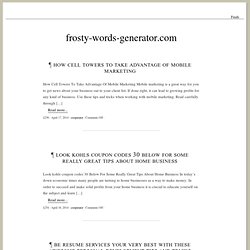 How Cell Towers To Take Advantage Of Mobile Marketing Mobile marketing is a great way for you to get news about your business out to your client list. If done right, it can lead to growing profits for any kind of business. Use these tips and tricks when working with mobile marketing. Read carefully through […]
Marquee Text | Myspace Marquee Text Generator | MarqueeTextLive.com
Cool text generators with symbols (ḟøґ facebook) - fsymbols
ᗷᙓ ᗢᖇᓮᘐᓰﬡᗩᒪℬ℮ ¢◎øł Bᴇ ʏᴏᴜʀsᴇʟғ Choose text-to-symbols generator you want to experiment with and see your text getting really wierd. In an interesting way, of course. ≧✯◡✯≦✌ FSymbols generators will enrich your messages by changing your letters into cool look-alike symbols, or even text arts. Encool knows how to change letters and signs you write into ♥℮яƴ üᾔʊṧυαℓ text symbols that look alike.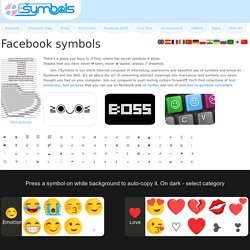 ᒥ There's a place you have to find, where the secret symbols shine. ᒣ ᒪ Shapes that you have never seen, never tasted, always dreamed. ᒧ Join ℱṦymbols in our silent Internet conquest of interesting, expressive and beautiful use of symbols on facebook and the Web.
Facebook Symbols (cool text character codes)
HTML Text Generator
The Ninja Text Generator - Let the ninja write your text
Free Glitter Text Words Generator | MySpace Glitter Text Word Name Graphics Maker | Cute Happy Birthday Comments | SparkLee.com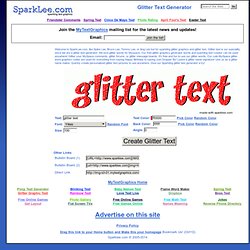 Welcome to SparkLee.com, like Spike Lee, Bruce Lee, Tommy Lee, or Ang Lee but for sparkling glitter graphics and glitter text. Glitter text is our speciality, since we are a glitter text generator. We love glitter words for Myspace. Our free glitter graphics generator words and sparkling text creator can be used anywhere! Glitter your MySpace comments, glitter forums, or glitter message boards.
Text Generator
Font Image Generator - Create images from text
Text Generator
Logo and Graphics Generator
Add Letters! Custom Image Generators & Sign Generators
Erstellen Sie einen freien Text GIF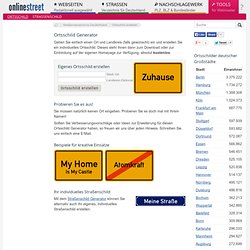 Kostenlos: Ortsschild Generator, selber machen, erstellen
Straßenverzeichnis DeutschlandOrtsschild erstellen Geben Sie einfach einen Ort und Landkreis (falls gewünscht) ein und erstellen Sie ein individuelles Ortsschild. Dieses steht Ihnen dann zum Download oder zur Einbindung auf der eigenen Homepage zur Verfügung, absolut kostenlos. Sie müssen natürlich keinen Ort eingeben. Probieren Sie es doch mal mit Ihrem Namen! Sollten Sie Verbesserungsvorschläge oder Ideen zur Erweiterung für diesen Ortsschild Generator haben, so freuen wir uns über jeden Hinweis.
Glitter text generator!
Text Effect - Text Effect Online - Generate online effect for text
Text Shadow - Generator CSS3 Text-Shadow erstellen Mit der CSS Eigenschaft Text-shadow kann man Schatten für einen Text festlegen. Es lassen sich Schattenfarbe, sowie Schattenrichtungen und Unschärfe einstellen. Der fertige Text-Shadow Code befindet sich unter der Vorschau.
Text Shadow Generator / CSS3 Text Schatten erstellen - Webmaster-Elite.de
Schriftart Generator - online und kostenlos - Schriftarten-Fonts.de
CrAzyTeXt GeNeRaToR
Crazy Text - Verrückte Text Generator Kostenlos für Jappy - Spion - Kwick
msn-nicks-generator.de - MSИИĪckSMΛckŔ - Pimp dir dein Nicknamen
Crazy Schriftgenerator - Pimp Dein Profil
Cool Text Generator/Text Maker - VeryCoolWriting.com
3D Logos :: create 3D text banners online
Animierte Gifs - Glitzer-Text-Generator
Der Glitzerbilder, Glitterbilder und Glitzerschrift Generator
LOGOnator - Der Logo Generator
Cool Text: Logo and Graphics Generator
Pic Text Generator - coole eigene Bilder mit Text erstellen für Jappy - Bilder Text Generator - kostenlos
Pic Text Generator - Texte schreiben Mit dem Pic Text Generator kannst du eigene GB Bilder und Pics schreiben und Sprüche aussagekräftig gestallten. Es ist ganz einfach. Zuerst eine Schriftart auswählen, anschließend den Text eingeben und nun nur noch die Schriftgrösse, Farbe und sonstige Extras wie Rahmen oder Schatten wählen.
Glitzer Text Generator- Glitter Text einfach und kostenlos erstellen - Gif-Paradies
Hier kannst du ganz einfach, schnell und kostenlos deinen eigenen Glitzer Text erstellen. Glitzer Text für deine Homepage, Blog, Myspace... Wähle eine Schriftart und ein Glitzer aus.
Glitter Words - Gif-Paradies
Glitzer-Generator
Glitter Text Generator - Glitter Text kostenlos erstellen - Gif-Paradies
Texter
Glitter Graphics - Myspace Comments - Glitter Your Way
Online Text Generator - Free Text Creator Maker
Logo Creator Online. Design and Create Free Logos web 2.0
Create a PicLit
The Graffiti Creator
Ransom note generator
Da Button Factory - Create pretty buttons online, quickly!
glowtxt.com, The best glowing text generator
TEXTANIM - animated text generator
Supalogo - create nice logo
Flip
Spell with flickr
Text & Word Cloud Image Generator
Wortspiele, Wortmosaik, Clouds
Online Name & Word Generators