Browser
What Browser? Am i using? How Browsers Work: Behind the scenes of modern web browsers. Web browsers are the most widely used software.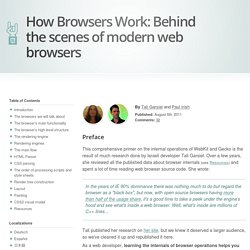 In this primer, I will explain how they work behind the scenes. We will see what happens when you type google.com in the address bar until you see the Google page on the browser screen. The browsers we will talk about.
Chrome. Internet Explorer. Internet Explorer. Firefox. Firefox. Überprüfung der Plugins. Wie kann Firefox mir dabei helfen?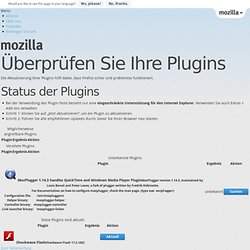 In Zukunft wird Firefox für Sie Plugins aktualisieren. Bis dahin sollten Sie regelmäßig diese Seite besuchen und Ihre Plugins aktualisieren, um geschützt zu bleiben. Welche Plugins habe ich? Opera. Opera. Safari. Safari - Browse the web in smarter, more powerful ways. Browser Addons.
Browser Addons
Toolbars. Bildschirm / Browser Auflösung & Testing Online Web Apps. Browser live refresh software. Liste von Webbrowsern. Liste von verfügbaren Webbrowsern nach Plattform: Multiplattform[Bearbeiten] Java-Browser[Bearbeiten] Nur für Linux, Unix und unixoide Systeme[Bearbeiten]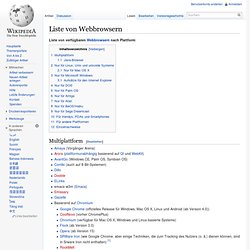 20 Dinge, die ich über Browser und das Web gelernt habe. IllustrationenChristoph Niemann Autoren/HerausgeberMin Li Chan, Fritz Holznagel, Michael Krantz ProjektkuratorMin Li Chan & The Google Chrome Team DesignFiPaul Truong EntwicklungFi Besonderer Dank an.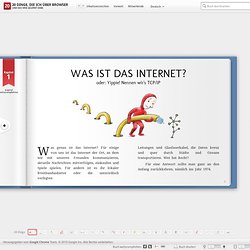 Download-Charts: Top 100 Browser der Woche. Kurz~ & Befehlsreferenz / Tastaturbefehle + Tastenkombinationen. Usage share of web browsers. Most used web browser by country as of February 2014 according to StatCounter.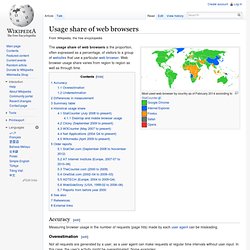 The usage share of web browsers is the proportion, often expressed as a percentage, of visitors to a group of websites that use a particular web browser. Web browser usage share varies from region to region as well as through time.
---
econologie Feb 4 2013

hello again ;) google translate from french :P => noted that there are teams in this sub-teams pearl, but I have not noticed ... => I think it would be interesting to open all of these beads collaborative :) so maybe if you're the founder of these teams in pearls, you can "FREEZE" (= dissolve) temporary teams, to provide a more general the root for all these perleurs / / / I have a simple job to my side so I rather attend a logical storage ... even if everything is understandable and without duplicates, depending on the language
---