Browser
Web browsers are the most widely used software. In this primer, I will explain how they work behind the scenes. We will see what happens when you type google.com in the address bar until you see the Google page on the browser screen. The browsers we will talk about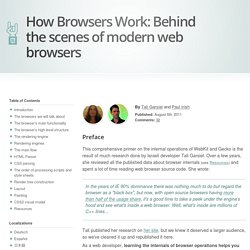 Internet Explorer
Firefox
Wie kann Firefox mir dabei helfen? In Zukunft wird Firefox für Sie Plugins aktualisieren. Bis dahin sollten Sie regelmäßig diese Seite besuchen und Ihre Plugins aktualisieren, um geschützt zu bleiben. Welche Plugins habe ich?
Überprüfung der Plugins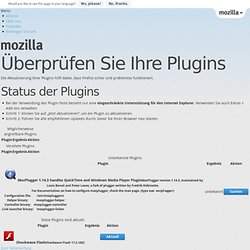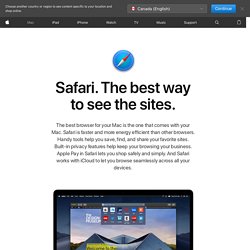 Shared Links is the best way to see what's up on the web. When you're in the mood to read something new, quirky, or cool, open Shared Links in the Safari Sidebar, where you can view links from people you follow on Twitter and LinkedIn. You can scroll seamlessly from one story to the next, no clicking required. So they're quick and easy to read. Share anything you come across on the web without leaving Safari. Just click the Share button, then choose how you want to send it off.
Browser Addons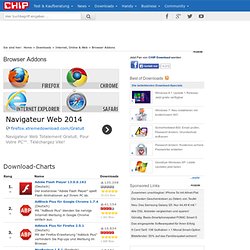 CHIP Online - Überblick Downloads - Überblick Internet, Online & Web - Überblick Browser Addons - Überblick Erweiterungen, Browser-Addons, Plugins oder Extensions: Mit den richtigen Tools bohren Sie Firefox, Chrome, Internet Explorer, Opera & Co. kräftig auf.
Bildschirm / Browser Auflösung & Testing Online Web Apps
Browser live refresh software
Liste von verfügbaren Webbrowsern nach Plattform: Multiplattform[Bearbeiten]
Liste von Webbrowsern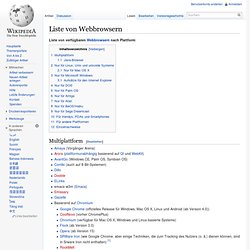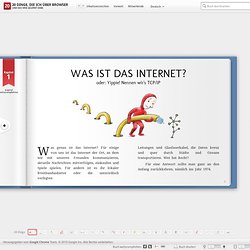 20 Dinge, die ich über Browser und das Web gelernt habe
IllustrationenChristoph Niemann Autoren/HerausgeberMin Li Chan, Fritz Holznagel, Michael Krantz ProjektkuratorMin Li Chan & The Google Chrome Team DesignFiPaul Truong EntwicklungFi Besonderer Dank an
Download-Charts: Top 100 Browser der Woche
Kurz~ & Befehlsreferenz / Tastaturbefehle + Tastenkombinationen
The usage share of web browsers is the proportion, often expressed as a percentage, of visitors to a group of websites that use a particular web browser. Web browser usage share varies from region to region as well as through time. Accuracy[edit]
Usage share of web browsers