Ideas
Joseph Fletcher
Grow Some Moss in Your Bathroom
ANIMAL Teachers Resourcefulness Well adapted to coping with life in the frozen North, Arctic Fox is known for her distinctive bushy white coat. Small and compact, She conserves her body heat. Unlike her Fox Cousins, Arctic Fox's ears are short and rounded.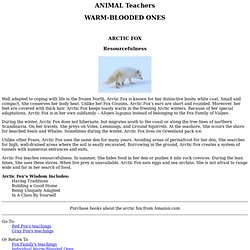 ANIMAL Teachers: Warm-Blooded Ones: Arctic Fox
The Papervore on Vimeo
AMAZING: World Facial Averages
A Skin Color Map of the World
Amazing Design: 10 photos of the Blob house | Daily Dawdle
Taking inspiration from comments make by readers of The Local, US exile Doug Lansky offers up ten more distinctly Swedish habits which often give expats plenty to talk about. <iframe id="4fb36f8e4417f" name="4fb36f8e4417f" src="http://d.thelocal.com/w/1.0/afr?auid=221323&cb=INSERT_RANDOM_NUMBER_HERE" frameborder="0" scrolling="no" width="300" height="250"><a href="http://d.thelocal.com/w/1.0/rc?cs=4fb36f8e4417f&cb=INSERT_RANDOM_NUMBER_HERE" ><img src="http://d.thelocal.com/w/1.0/ai?
Ten more of the Swedes' quirkiest habits
Åke Daun
Åke Daun , född 1936 , professor emeritus i etnologi vid Stockholms universitet , innan dess professor vid Nordiska museet (1981-2001). Han är också författare till ett flertal böcker. Förändring, arbetarprotester och förortsliv [ redigera ] Daun bidrog starkt till förändringen av svensk etnologi, vilken inleddes från slutet av 1960-talet. Etnologiämnet i Sverige blev från den tiden mer sociologiskt och antropologiskt inriktat.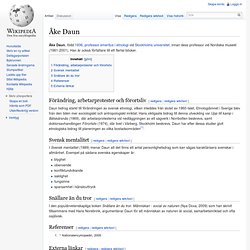 Stress Free Living with Less | elevatedsimplicity
Entrepreneurship, Minimalism and Travel with Colin Wright
Radical Resources
What is mnmlist.com? It's a site by Leo Babauta of Zen Habits . It's about minimalism, and why it's important today. It's about stuff, and how it has come to overwhelm us. It's about distractions and commitments and a neverending task list.
» about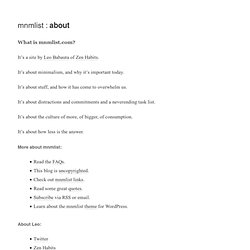 Far Beyond The Stars | Live a Minimalist Lifestyle and Work from Anywhere
Simplicity Takes Desire for Change & Not Courage | LifeExcursion
(An aside: Check out Sam article here and Courtney's article here as we blogging-style discuss our own opinion about Simplicity and Courage) (2nd Aside: Don't forget to check out week 2 of OngoingConvo ) It takes courage to run into a burning home to save a person.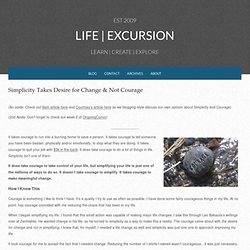 thesimplerlife | live consciously.
How to Be Adventurous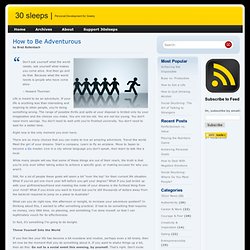 Don't ask yourself what the world needs; ask yourself what makes you come alive. And then go and do that. Because what the world needs is people who have come alive. – Howard Thurman Life is meant to be an adventure. If your life is anything less than interesting and inspiring to other people, you're doing something wrong.
Radical Honesty
Honesty is the first chapter of the book of wisdom. – Thomas Jefferson Deception is cancerous. The first mutation of a truth charts a path to colonize its host. One fib demands another, two lies need the proof of two more, until eventually even the most innocent half-truth metastasizes into a falsehood requiring surgery. A lie is a deliberate attempt to fake the nature of reality. So a scientist who reaches a flawed conclusion through an error in her experimentation method may hint at incompetence, but she is not lying.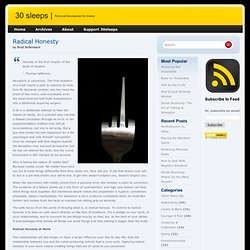 Dead Man Walking: Wade Davis and the Secret of the Zombie Poison By Patrick D. Hahn
Dead Man Walking
Wade Davis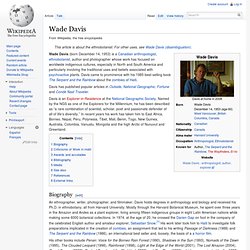 Edmund Wade Davis (born December 14, 1953) is a Canadian anthropologist , ethnobotanist , author and photographer whose work has focused on worldwide indigenous cultures, especially in North and South America and particularly involving the traditional uses and beliefs associated with psychoactive plants. Davis came to prominence with his 1985 best-selling book The Serpent and the Rainbow about the zombies of Haiti . Davis has published popular articles in Outside , National Geographic , Fortune and Condé Nast Traveler . Davis is an Explorer-in-Residence at the National Geographic Society .
Society to Advance Indigenous Vernaculars of the United States
Hans Henning Ørberg
Hans H. Ørberg Hans Henning Ørberg (April 21, 1920 – February 17, 2010) was born in Denmark and received a master's degree in English, French and Latin at the University of Copenhagen . He dedicated a great part of his life (1946 to 1952 and 1961 to 1989) to the teaching of these languages in schools in Denmark; 1963-1989 at Grenaa Gymnasium. [ edit ] Career From 1953 to 1961 he worked in the Naturmetodens Sproginstitut, an institute where the languages are taught according to the " natural method " of learning.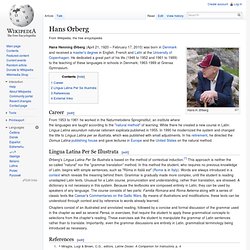 Whittled Down
Forkless-Bicycle-01