Alcoholic Drinks
Recipe: Spice "Cake Batter" Shots Try as they might to find a fruitcake recipe that is light and airy, all too often the only thing any fruitcake is good for is propping open a door. Gingerbread houses are no better.
Spice "Cake Batter" Shots Recipe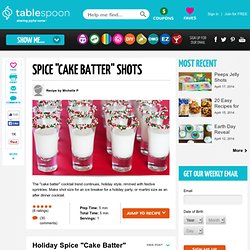 DRINKSMIXER.COM: 22400+ mixed drink recipes, cocktails and drinks
S'moretini Shooters
Me again. Here to convince you that you need yet another trendy, insanely-flavored bottle of booze. I do what I can. I know what you're thinking. "Does marshmallow vodka really taste that different from that whipped cream vodka you already insisted that I buy?