Developer Stuff!
To get rid of annoying Excel save of scroll position during save across sheets. This is more of a personal reference – anyone else who knows Excel anyway knows this bit! Option Explicit Sub AllSheetSetFirstCellActive() Dim ws As Worksheet For Each ws In ActiveWorkbook.Worksheets '** Perform code here ** ws.Select Range("A1″).Select On Error Resume Next 'Will continue if an error results '*********************** Next ws End Sub Rate this: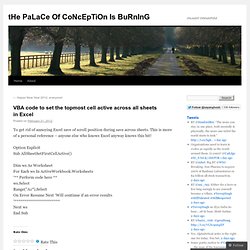 VBA code to set the topmost cell active across all sheets in Excel | tHe PaLaCe Of CoNcEpTiOn Is BuRnInG
articles/nosql-intro.pdf
This is a PDF infodeck written by Pramod and me that provides a brief intro to NoSQL databases.