Developer Stuff!
To get rid of annoying Excel save of scroll position during save across sheets. This is more of a personal reference – anyone else who knows Excel anyway knows this bit! Option Explicit Sub AllSheetSetFirstCellActive() Dim ws As Worksheet For Each ws In ActiveWorkbook.Worksheets '** Perform code here ** ws.Select Range("A1″).Select On Error Resume Next 'Will continue if an error results '*********************** Next ws End Sub Like this: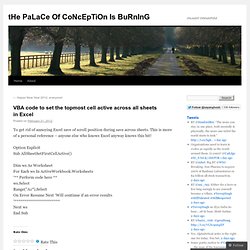 VBA code to set the topmost cell active across all sheets in Excel | tHe PaLaCe Of CoNcEpTiOn Is BuRnInG
articles/nosql-intro.pdf
This is a PDF infodeck written by Pramod and me that provides a brief intro to NoSQL databases. Our intention is to explain to a technical manager audience why NoSQL databases are important. We describe why relational databases have been so dominant and what forces have led to NoSQL cracking that dominance. We discuss the principal benefits of a NoSQL approach, but stress that relational databases still have a large role to play, thus our emphasis on polyglot persistence.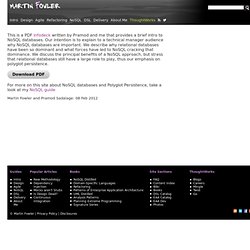 Rich user interface components By building your application from the hundreds of polished components that are available, you can focus on designing the best user experience. Built on HTML5 Lightning fast rendering and modern web technologies let you move even the most demanding applications to the web platform with ease. No need for installations or plug-ins.