Google Apps/Educación
Professional blog | 21st Century Educator. 6 Nifty Ideas For Using Google Apps In The Classroom. Over the past few weeks I have collected some great classroom resources surrounding the use of Google for various classroom activities.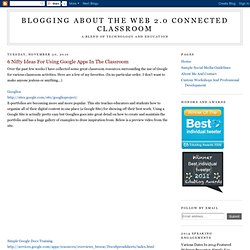 Here are a few of my favorites. (In no particular order. I don't want to make anyone jealous or anything...) E-portfolios are becoming more and more popular. This site teaches educators and students how to organize all of their digital content in one place (a Google Site) for showing off their best work. Ten Reasons to use Google Apps Education Edition at your school or University. September 19th, 2010 // 7:31 am @ admin 1.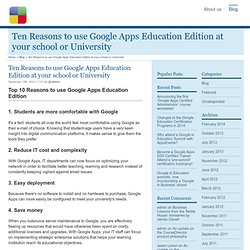 Students are more comfortable with Google It's a fact: students all over the world feel most comfortable using Google as their e-mail of choice. Knowing that student-age users have a very keen insight into digital communication platforms, it makes sense to give them the tools they prefer. 2. 40 Ways to use Google Apps in the Classrooom. Google has been working hard to continually update their suite of tools recently.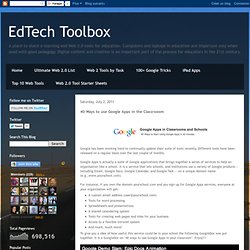 Different tools have been released on a regular basis over the last couple of months. Google Apps is actually a suite of Google applications that brings together a series of services to help an organisation like a school. It is a service that lets schools, and institutions use a variety of Google products -- including Email, Google Docs, Google Calendar, and Google Talk -- on a unique domain name (e.g. ,www.yourschool.com).
Why Schools are Turning to Google Apps. Today, the entire public school system of Oregon will embrace Google Apps. 400,000 Students, teachers, and administrators will have access to a common e-mail and chat system, cloud-based collaboration tools, and a robust multimedia streaming service.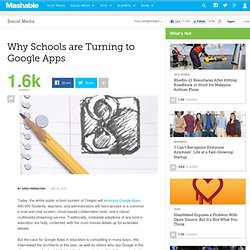 Traditionally, statewide adoptions of any kind in education are hotly contested, with the most minute details up for extended debate. But the case for Google Apps in education is compelling in many ways. 32 ways to use Google Apps in the classroom. Google Apps for ePortfolios. ©2007, Helen C.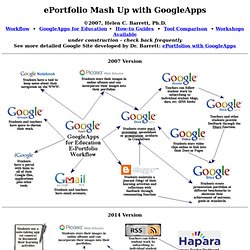 Barrett, Ph.D. Workflow • GoogleApps for Education • How-to Guides • Tool Comparison • Workshops Available under construction - check back frequently See more detailed Google Site developed by Dr. Barrett: ePortfolios with GoogleApps 2007 Version. Educator Resources – Google in Education. Tablets with Google Play for Education With tablets and Google Play for Education, teachers can now discover, purchase, and share educational apps, videos, and a selection of top classic books.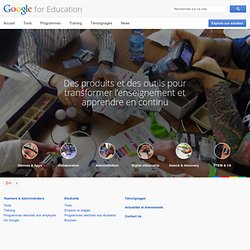 Accéder au site Chromebooks for Education Les Chromebooks sont des ordinateurs portables rapides permettant aux étudiants d'accéder aux outils et aux ressources pédagogiques du Web. Born to Learn.
---