IRS Info
www.irs.gov/pub/irs-pdf/p557.pdf
www.irs.gov/pub/irs-pdf/p1828.pdf
www.irs.gov/pub/irs-pdf/k1024.pdf
We have redesigned the IRS.gov website to make it easier and faster to find the information you need. If you have reached this page by selecting a bookmark that worked previously, it is likely the URL has changed. To navigate to the new redesigned IRS website click on the homepage link. You may also Search the site for specific information. Once you have arrived at the desired page, please update your bookmark.
Exempt Organizations User Fees - 2011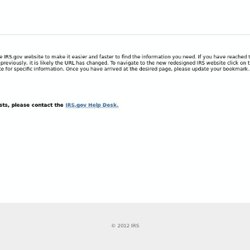 Apply for an Employer Identification Number (EIN) Online
No need to file a Form SS-4! We ask you the questions and you give us the answers. After all validations are done you will get your EIN immediately upon completion. You can then download, save, and print your EIN confirmation notice.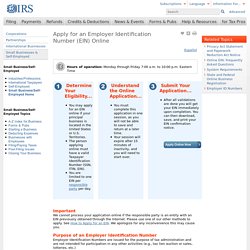 Application for Recognition of Exemption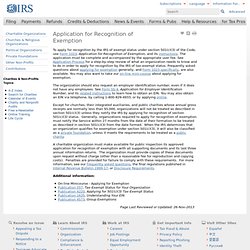 To apply for recognition by the IRS of exempt status under section 501(c)(3) of the Code, use Form 1023 and its instructions . The application must be complete and accompanied by the appropriate user fee. See Application Process for a step-by-step review of what an organization needs to know and to do in order to apply for recognition by the IRS of tax-exempt status. Frequently asked questions about applying for exemption generally, and Form 1023 specifically , are also available. You may also want to take our on-line mini-course about applying for exemption. The organization should also request an employer identification number, even if it does not have any employees.
www.irs.gov/pub/irs-pdf/f1023.pdf
www.sos.wa.gov/_assets/charities/QuickGuideHandbookFeb2011.pdf
Charities & Trusts
Exempt Organizations Forms and Instructions
{*style:<b>Revision Date </b>*}1 {*style:<b>Separate </b>*}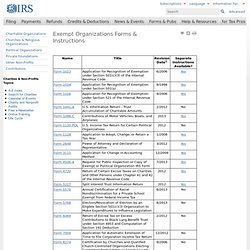 Form 990 Resources and Tools for Exempt Organizations