BOOKS!
Fairy tales and legends, such as Dobrynya Nikitich's rescue of Zabava Putyatichna from the dragon Gorynych, have been an important source for fantasy.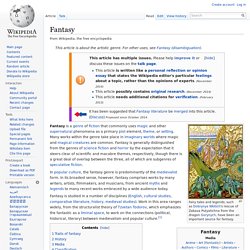 Fantasy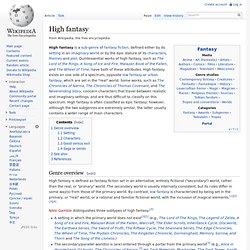 Genre overview[edit] High fantasy is defined as fantasy fiction set in an alternative, entirely fictional ("secondary") world, rather than the real, or "primary" world. The secondary world is usually internally consistent but its rules differ in some way(s) from those of the primary world. By contrast, low fantasy is characterized by being set in the primary, or "real" world, or a rational and familiar fictional world, with the inclusion of magical elements.[1][2][3][4]
High fantasy
JRR Tolkien Reads The One Ring Poem
Set in a time "Between the Dawn of Færie and the Dominion of Men",[1] The Hobbit follows the quest of home-loving hobbit Bilbo Baggins to win a share of the treasure guarded by the dragon, Smaug. Bilbo's journey takes him from light-hearted, rural surroundings into more sinister territory.[2] The story is told in the form of an episodic quest, and most chapters introduce a specific creature, or type of creature, of Tolkien's Wilderland.
The Hobbit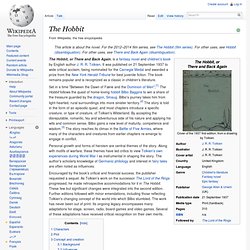 THE HOBBIT: AN UNEXPECTED JOURNEY
Martin Freeman
Richard Armitage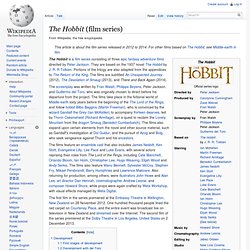 The Hobbit (film series)
The Hobbit is a film series consisting of three epic fantasy adventure films directed by Peter Jackson.
The Lord of the Rings
The work was initially intended by Tolkien to be one volume of a two-volume set, the other to be The Silmarillion, but this idea was dismissed by his publisher.[4][5] For economic reasons The Lord of the Rings was published in three volumes over the course of a year from 29 July 1954 to 20 October 1955.[4][6] The three volumes were titled The Fellowship of the Ring, The Two Towers, and The Return of the King. Structurally, the novel is divided internally into six books, two per volume, with several appendices of background material included at the end of the third volume. Some editions combine the entire work into a single volume.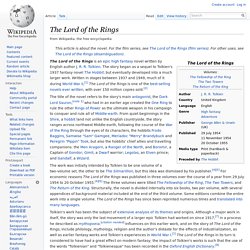 How Lord of The Rings Should Have Ended
J.K.Rowling Official Site - Harry Potter and more
Harry Potter in 99 Seconds
Pottermore: a unique online Harry Potter experience from J.K. Rowling
MuggleNet
Wiki
George R. R. Martin's Official Website
Game of Thrones: Homepage
Westeros: The 'A Song of Ice and Fire' Domain
Cooking Ice and Fire - Home
HBO - Making Game of Thrones