Recipes
Get flash to fully experience Pearltrees
I found these helpful charts last week and just had to share!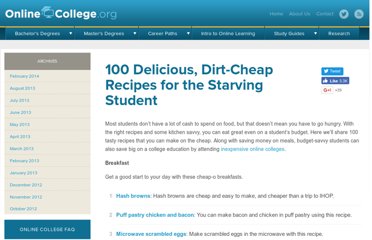 Most students don't have a lot of cash to spend on food, but that doesn't mean you have to go hungry.
Growing up, chicken potpie meant a Swanson's frozen dinner, pulled hot from the oven before my parents escaped for a night of freedom. Those nights meant freedom to my sister and me, too: babysitters! The Love Boat!
Last month I hopped out to Breckenridge for a weekend to go skiing and catch up with my good friend Courtney.
Mozzarella sticks are a delicious treat, probably one of the most popular appetizers at restaurants, and a fun party food.
Note: This recipe has been updated with much better pictures and quantities for making a whole jar of seasoning as opposed to just a couple of tbsps. You can view the new recipe here: Homemade Taco Seasoning Recipe . We love tacos.
More Infographics on Good