Style
Influence x Olsen
Fluffy Fashion Forward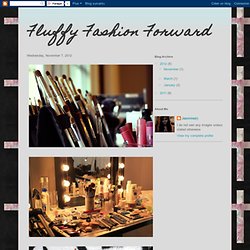 Wednesday, November 7, 2012 Posted by Jazmine(r) at 8:34 PM No comments: Email ThisBlogThis!Share to TwitterShare to FacebookShare to Pinterest Labels: blush, cute, eyes, eyeshadow, face, Fashion, girly, hot, leopard print, lips, lipstick, make up brushes, makeup, pretty, sexy Tuesday, March 27, 2012
Violet Bella // Roots and Feathers
Dear friends, family, readers, lurkers, and others, It's been a fantastic two and a half years writing this blog. When I started, I always thought this would be a six-months-to-a-year project.
What Would a Nerd Wear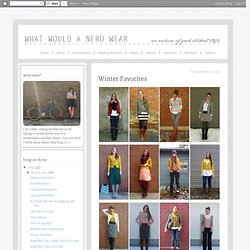 Oh how I miss New England. The pretty houses close together by the shore, and further and further apart as you wind your way inland, narrow roads canopied by pines, groaning beneath the weight of ice and snow (during this particular trip home at least), and icy, salty shores. While the entire region has my heart, if ever there was a place where I feel most at home and like myself, it's Maine. When I was younger, I dreamed of the day I'd escape for the bigger and brighter, now, I dream of the day I can go back. In a way, it's less painful to live in the city, where major changes aren't quite as apparent -- a building bulldozed here and there can't compare to the scars left behind on a new clear-cut portion of land, previously lush with trees -- but the distance and knowledge of change makes me miss it no less.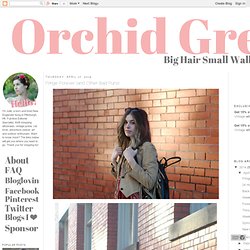 Orchid Grey
Fashion makes the world go round
Rogue by Rihanna (75ml)* - £33 (RRP) Celebrity scents is starting to become more and more of the norm - first you had J-Lo and Britney, now you've got Kim K and Rihanna who have both become even more successful due to their fragrance lines. Recently I received a bottle of Rihanna's fourth scent Rogue to review and I have to admit that it takes a very special fragrance to make its way onto my dressing table, however does Rogue make the cut? Word on the street is that Rihanna created this adventurous scent for women who radiate edginess and confidence but are also flirty and feminine.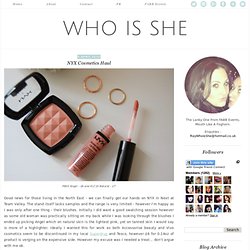 who is she | uk lifestyle blog
WhatIWore: Yesterday was a pretty good day. It was warm enough to ditch my trench by noon and I had some promising doctor's appointments that left me feeling a lot more optimistic (baby is fine, I'm just dealing with some issues that I hope are resolved soon!). Outfit wise, another super simple combo - skinny jeans, a crisp white tee, classic trench and flats and a great fringed spring scarf. A great basic look for any woman, pregnant or not!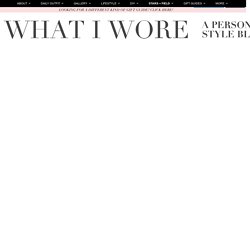 This limited edition NARS collection came to my attention when browsing the "New In" section on the Selfridges website. I hadn't heard much about it and all the colours looked tempting to me. 4 romantically hued blushes, variations on pink, 4 lip pencils in a similar tone selection and a shimmering face illuminator. I did something I don't think I have ever done - I bought all the cheek products and internally justified it as "for the blog". Yeah, okay. (L-R - Final Cut, New Attitude, Sex Fantasy and Love)
buy now, blog later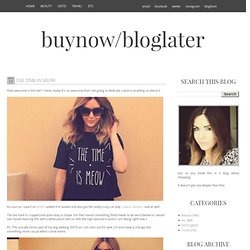 Steal her style
Valentino Resort 2014. I found this collection interesting. Some of the skirts and dresses seemed school girlish in a childish, naive way in my eyes but still there's something about these outfits that captivate me. The military feel is undeniable but seems to make the outfits come together for me. Whether it's the colours used or the tone-in-tone of these outfits I can't seem to put my finger on it but it does captivate me.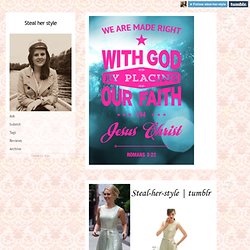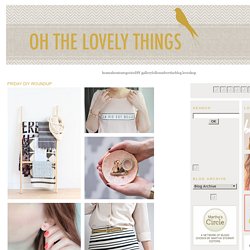 When I was in China last summer, I remember noticing that most girls had ponytails tied with a scrunchie with bunny ears. I could never pull this off, but thought it was adorable, and kept it in mind for an Easter DIY. It's a great way to use fabric scraps, a simple accessory to wear at an Easter party, and a sweet Easter gift for a little girl. When I was done with the DIY, I saw that there was a similar one on YouTube.
Okay ladies, let's talk fitness and weight loss. I don't normally delve into these topics as I am a really shitty healthy person. I grew up with terrible eating habits (yet was always skinny until I hit 23). I have to drag myself to the gym and I would rather have splinters shoved under my finger nails than go on a juicing cleanse (okay, maybe that's a bit extreme).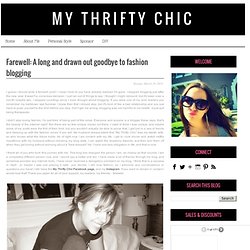 my thrifty chic
Squiggles & Scribbles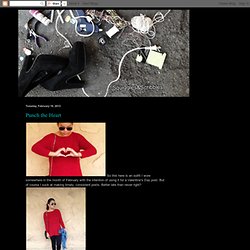 Here's a little DIY to keep you busy during these cold days while you're watching re-runs of your favorite TV show, underneath your favorite blanket, and sipping some tea. High five for those with grandma tendencies!! No? Allright then.
Some beauty products I am personally obsessed with that I thought were worth sharing. I am defintitely a product junkie, like lots of you, but as I get older, I have found the items that work for me and that I love and tend to stick with them. Hope you enjoy! 1. Love this EOS lip balm...feels good to hold in your hand and apply, makes your lips super soft and tingly and is quite easy to find in your purse. 2.
Girl Obsessed
Jacket? Vintage (two similar ones on Etsy, here and here) Shoes? Land's End (here) Jeans?
my edit.
We're heading into the time of year that Australians commonly refer to as the 'Silly Season'. The Christmas and holiday season is when everything goes a wee bit pear-shaped.. but in a good way. It's my favourite time of year. Something about the mass festivity provides ample heart cockle warm-age.
Little Miss Violet
A week into April means that the March favourites posts are flying up all around the blogosphere. My video has already gone up on my YouTube channel, which you can watch below, but as you probably know, I always like to write a blog post to go alongside the video. As I didn't get around to posting my February Favourites until 20th March, I don't have too many products to talk about from March, however the products that I have included are damn good ones! Garnier Ultimate Blends Shampoo & Conditioner: I think I may have finally found the shampoo and conditioner duo that was made for my hair.
That's Peachy: UK Style & Fashion Blog
Pearls and Poodles
short of something
In Honor Of Design
Crochet Clouds
blog.boohoo.com
Avenue M
Style Fashion Vintage Baby
M O O R E A S E A L
THIS.IS.WHAT I.DO
Streets of Sparkle
Poor & Pretty