Music
The 6 Most Insanely Huge Musical Instruments
#3. Musical Highways Ad Rants Some of you saw the "musical highway" featured in a Honda Civic commercial, and being the cynical types that you are, probably dismissed it as some kind of ad agency bullshit. But it is an actual stretch of highway that is specifically tuned to play you a little song when you drive over it. How?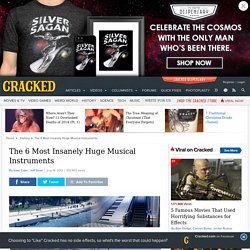 Adam Lambert Sessions: Glambert's 'Dark Side,' Plans for Fatherhood & 'Trespassing' - AOL Music Blog
Joseph Llanes for AOL On May 15, Adam Lambert returned with Trespassing , the long-awaited followup to his 2010 debut. The album presents the "American Idol" alum as a man at odds, its first half a parade of electro-inspired party anthems, followed by a glimpse at Glambert's "dark side," a series of emotionally charged ballads, marking a collective departure from the decadent glam-rock that won fans over on "Idol." Lambert recently visited AOL Music's Los Angeles studio, where he performed a selection of songs from the new album, showcasing his tremendous range, whilst trading jokes with his band. After his impassioned performance, we talked with Adam about his incredible journey from "Idol" contestant to pop icon, touching on everything from his relationship with boyfriend Sauli Koskinen and their plans for fatherhood, to the inspiration he's received from his loyal fan base.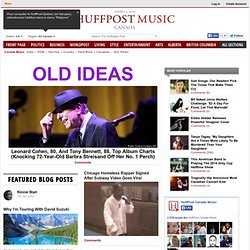 OneRepublics "Secrets" mixed with Beethovens 5th Symphony is pure amazing - The Feed Blog - CBS News - StumbleUpon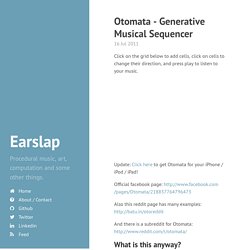 New! If you like Otomata, check out my new instrument Circuli by clicking here! Update: Click here to get Otomata for your iPhone / iPod / iPad!
Coldplay Rips Off Mario is Todays BIG Thing in Music - NOV 30, 2010
Frederic Mesnier - Over The Clouds Guitar Tab | Songsterr Guitar Tabs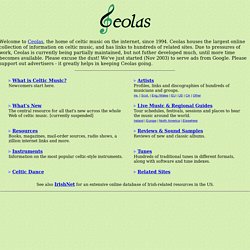 Welcome to Ceolas , the home of celtic music on the internet, since 1994. Ceolas houses the largest online collection of information on celtic music, and has links to hundreds of related sites. Due to pressures of work, Ceolas is currently being partially maintained, but not futher developed much, until more time becomes available.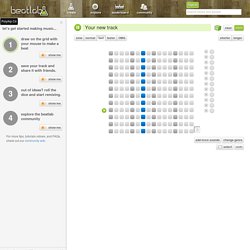 let's get started making music... 1 draw on the grid with your mouse to make a beat show me 2 save your track and share it with friends. show me 3 out of ideas? roll the dice and start remixing. show me 4 explore the beatlab community show me
Denis wrote… This is superb, total respect for DTF in not only using his time to create this, but also in how professional the presentation. I would be very interested to see a lesson in creating lyrics, this is my weak point in creating songs. :razz: Hmmm...Well you've got to use words like you would notes, but how you put them together is up to your own 'inspiration' I suppose. And like the theory of music there are certain grammatical and rhythmical ways of writing that create lyrics.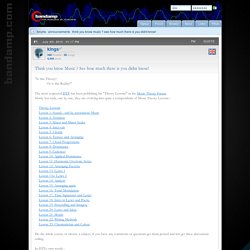 Naming that tune in 140 characters or less :: Lyric Rat