Semiotic Obsessions
Elements of Semiology by Roland Barthes
Roland Barthes (1964) Source: Elements of Semiology , 1964, publ. Hill and Wang, 1968. The first half of the book is reproduced here. In his Course in General Linguistics, first published in 1916, Saussure postulated the existence of a general science of signs, or Semiology, of which linguistics would form only one part. Semiology therefore aims to take in any system of signs, whatever their substance and limits; images, gestures, musical sounds, objects, and the complex associations of all these, which form the content of ritual, convention or public entertainment: these constitute, if not lan guages, at least systems of signification.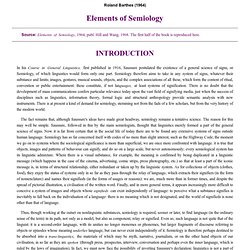 Barthes-Myth
From: Mythologies by Roland Barthes, translated by Annette Lavers, Hill and Wang, New York, 1984 [Copy-edited and spell-checked by Scott Atkins, September 1995. Tagged in html, October 1995.] What is a myth, today? I shall give at the outset a first, very simple answer, which is perfectly consistent with etymology: myth is a type of speech .1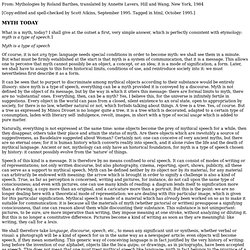 Practical Semiotics - Master the Hidden Depths of your Brand
libreros: Roland Barthes - Retorica de la imagen
Según una etimología antigua, la palabra imagen debería relacionarse con la raíz de imitari .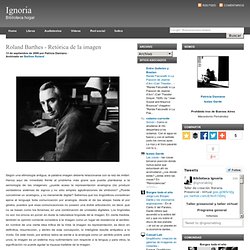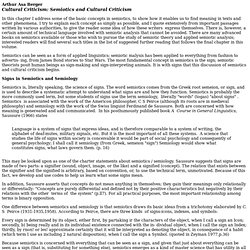 Semiotics and Cultural Criticism by Arthur Berger
Arthur Asa Berger Cultural Criticism: Semiotics and Cultural Criticism In this chapter I address some of the basic concepts in semiotics, to show how it enables us to find meaning in texts and other phenomena. I try to explain each concept as simply as possible, and I quote extensively from important passages written by various authorities, to give the reader some idea of how these writers express themselves.
Visual Semiotics
Site presentation Signo presents semiotic theories and theories closely related to semiotics. Definition of Semiotics Semiotics (from the Greek sêmeiôtikê , from sêmeion , "sign") is the theory and study of signs and meaning.
Signo - Applied Semiotics Theories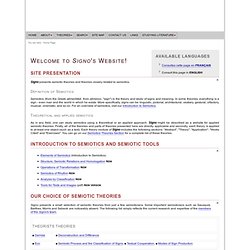 semiotic analysis - proven methods to cut through marketing clutter
Greimas Le programme narratif (PN), élaboré par Greimas, est une formule abstraite servant à représenter une action. Un faire (une action) réside dans la succession temporelle de deux états opposés produite par un agent quelconque (S1 : sujet de faire).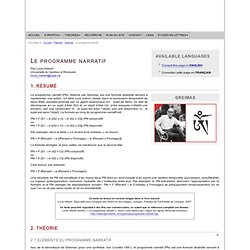 Algirdas Julien Greimas : Le programme narratif
Semionaut Signifying Everything