GigaPixels
Gigapixel ArtZoom. Krpano.com - EBC_Pumori_050112_8bit_FLAT. Travel to The World now - Panoramic Photography and Map - 360Cities. Welcome to Earth!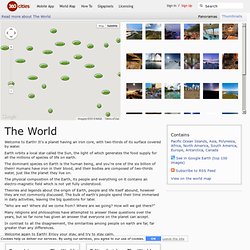 It's a planet having an iron core, with two-thirds of its surface covered by water. Earth orbits a local star called the Sun, the light of which generates the food supply for all the millions of species of life on earth. The dominant species on Earth is the human being, and you're one of the six billion of them! Photo panoramique de Londres record du monde : Observez le Big Ben, le London Eye, le Tower Bridge, et d'autres endroits défiant votre imagination. À propos de cette photo Il s'agit d'une photo panoramique de 80 gigapixels, fabriquée à partir de 7886 images individuelles.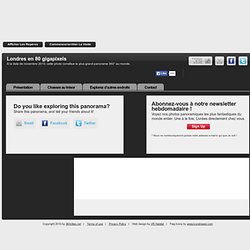 Ce panorama a été photographié à partir du sommet de l'édifice Centre Point, situé dans le centre-ville de Londres, durant l'été 2010. Nous espérons que cette photo rend compte d'une manière inédite des différents sites touristiques de même que de l'énergie de Londres, afin que vous puissiez faire la connaissance de l'une des villes exceptionnelles de ce monde - où que vous soyez à l'heure actuelle. The splendid mian Mountains2. Shanxi located at Mt.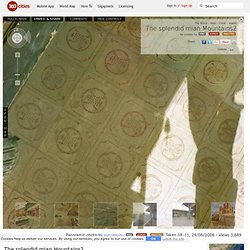 Taihang west, east of Yellow River. Name of the Shanxi, because of occupies Mt. Taihang west to acquire fame. Was called since old times "Biaolishanhe". Spring and Autumn Period time, most districts for Jin all, therefore abbreviation "Jin"; The Warring States initial period, Han, Zhao, Wei three divide the Jin, because and calls "the Three-Jin". Lingyin scenic Hangzhou - klippe imaging - to uncover the story group of monks carved. Editors' Picks Check out our newest extraordinary panoramas, hand-picked by our staff and published by the best photographers in the world every day on 360Cities.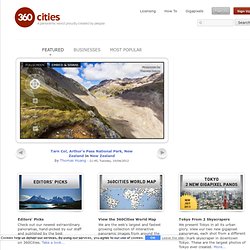 Take a look... View the 360Cities World Map We are the web's largest and fastest growing collection of interactive panoramic images from around the world. Take a look... EL CAPITAN. Yosemite Park. 70 Billion Pixels Budapest - The largest photo on Earth - created by 360world.eu. Dubai 45 gigapixels. Want to add this gigapan to your favorites?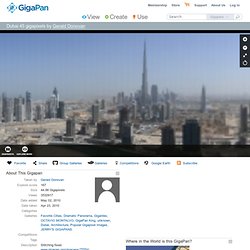 Or now. now to add this Gigapan to a group gallery. now to add this Gigapan to a gallery. About This Gigapan. GigaPixel – images très haute résolution. Gigapixel-Dresden.de. The picture was made with the Canon 5D mark II and a 400mm-lens.
It consists of 1.665 full format pictures with 21.4 megapixel, which was recorded by a photo-robot in 172 minutes. The converting of 102 GB raw data by a computer with a main memory cache of 48 GB and 16 processors took 94 hours. With a resolution of 297.500 x 87.500 pixel (26 gigapixel) the picture is the largest in the world. (stand December 2009) The photo was taken on the roof of the building "Haus der Presse" and starts at the left side with the Ostragehege. Downtown Vancouver 10 Gigapixels. Paris 26 Gigapixels - Visite virtuelle interactive des plus beaux monuments de Paris.
---