Logos
A common misunderstanding these days seem to be people confusing the two, thinking a Logo and a Brand is the same thing. This isn't quite the case. You can have one and not the other, you can have none – and you'd most likely want both to be successful with your business. In this article we'll have a brief look at what these two mean and things you should think about when you're working with them.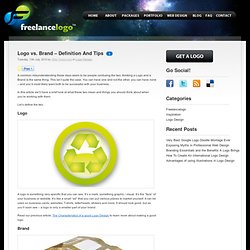 Logo vs. Brand - Definition And Tips
This guest post was written by Paul Galbraith, a freelance logo designer based in the UK, who works with clients worldwide to produce successful logos, identities and rebrands for all types of businesses. With thousands of logos being created each year, it makes it extremely difficult for new ones to be designed that have something distinguishable to make them stand out, whilst staying simple enough to be memorable. This difficulty could well mean you're producing logos that, although well designed, are far too forgettable to be successful for the businesses you're designing them for. Let's be clear here, the main purpose of a logo is for it to act as an identifier of a company, so that over time it can become associated with that business and even a quick glimpse and consumers will instantly know who it represents.
Stop Designing Forgettable Logos | Logobird, Logo design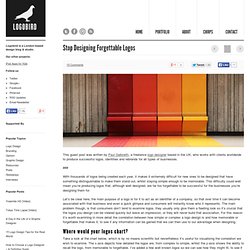 online FPO (For Print Only) / Celebrating the reality that print is not dead by showcasing the most compelling printed projects. Art of the Menu / Cataloguing the underrated creativity of menus from around the world. Quipsologies / Chronicling the most curious, creative, and notable projects, stories, and events of the graphic design industry on a daily basis. Speak Up (2002 – 2009) / Discussing, and looking for, what is relevant in, and the relevance of, graphic design.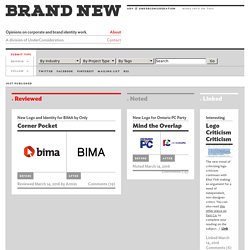 lo8os - Logo Inspiration! - Graphic Design Community - Logo Gallery - Graphic Design Links
1960s & 1970s Scandinavian Design Logos : un album
Anyone can make a logo, but making a truly good logo design is something that takes more than just a PC or mac with the required software. There are many guidelines you should have a look at before deciding which logo design you choose in the end. Remember that your logo will be part of your brand and for that reason it needs to be taken seriously. If you're a designer you would want to look out for these tips. If you're someone ordering a logo from somewhere – make sure the provider can give you a logo fitting most of these criteria. It should fit your image and be relevant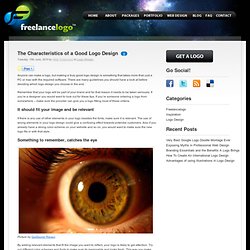 The Characteristics of a Good Logo Design
Logo and Corporate Identity Creation
Logo Design | Galaxark Blog